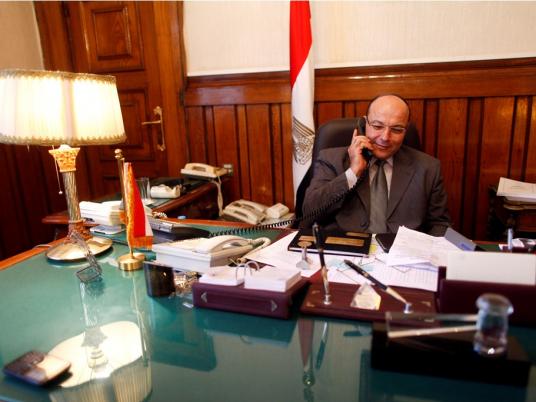 An anti-Muslim Brotherhood activist and former MP says he plans to sue Prosecutor General Talaat Abdallah and demand compensation of LE10 million, saying Abdallah is abusing his power by summoning political figures who oppose the president.
Hamdy al-Fakharany, in an interview with privately owned satellite channel Dream, described Abdallah as a "private revenge prosecutor."
Prosecutors last week ordered Fakharany to be detained or pay a bail of LE50,000 over charges of inciting violence.
Many anti-Brotherhood activists accuse Abdallah of being a tool for the Islamist regime to harass Morsy's opponents.
A Cairo Court of Cassation ruling last week annulled the presidential decree appointing Abdallah as prosecutor general after dismissing his predecessor, Abdel Meguid Mahmoud. But Abdallah said the ruling stripping him of the post is unenforceable and unconstitutional.
Abdallah has recently issued arrest warrants for critics of President Mohamed Morsy.
Last week, he issued five arrest warrants for prominent political activists accused of inciting violence against the Brotherhood. He released Bassem Youssef, a prominent television satirist, on Sunday over allegations he insulted the president and Islam.
Abdallah last week ordered Fakharany to stand trial before a criminal court in Tanta on charges of instigating violence during the 25 January protests in Mahalla this year.
This is the latest in a recent string of criminal charges levied against high-profile anti-Brotherhood activists. Fakharany described the method of arresting him as "degrading" and a "kidnapping," because authorities used six armored vehicles and officers armed with machine guns to arrest him.
The former MP said he was deprived of all means of communication with his family or lawyer for 36 hours, until he managed to give his family's number to a recruiter and asked him to tell his family where authorities had detained him.
Fakharany said the amount of money set for his bail, LE50,000, reveals the regime's "malice" against him, especially after he filed a lawsuit against the president over the case of the killing of Egyptian border guards in Rafah last year and the kidnapping of others in Sinai.
He noted that activists and politicians collected the bail for him in an hour, and he vows to pay them back.
Fakharany said he also planned to sue a Brotherhood leader on charges of seizing state land, in addition to Brotherhood deputy leader Khairat al-Shater and leading member Hassan Malek to find out the sources of their wealth and whether they pay taxes to the state.