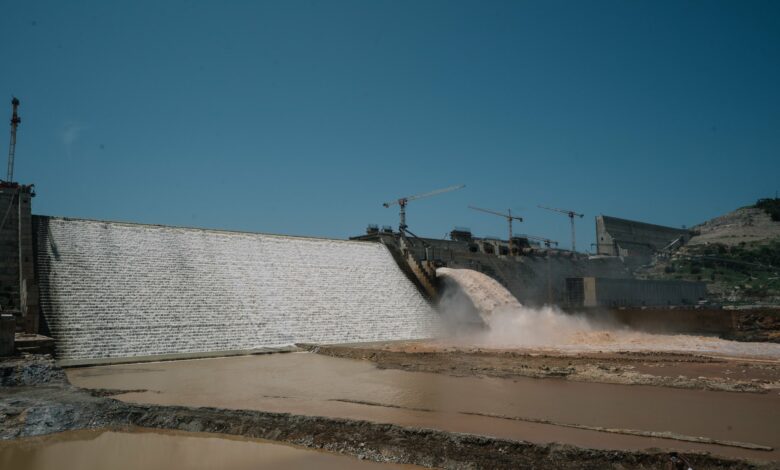 Addis Ababa's announcement of the completion of the second filling of the Grand Ethiopian Renaissance Dam (GERD) is false, according to the Advisor to Al-Ahram Center for Sudan and Nile Basin Affairs, Hany Raslan.
Raslan called the announcement an attempt by Ethiopia to use this issue to cover up the catastrophic situation facing its people amid ongoing wars, massacres, and defeat.
He stated that Ethiopia is spreading media propaganda to serve Prime Minister Abiy Ahmed and his government. 
"Ethiopia failed miserably in completing the second filling, as the Ethiopian Minister of Irrigation did not mention the quantity that was stored, which is a total of approximately seven billion cubic meters for the first and second filling together, while the planned was 18.5 billion, due to the failure to complete the ramp work in the middle corridor," Raslan told Al-Masry Al-Youm.
He stressed that the Irrigation Minister deliberately misled the public by failing to announce how much water was added to the reservoir during the second filling, adding that this move makes clear a complete loss of credibility.
Raslan continued: "The Ethiopian Minister of Irrigation stated in an official letter addressed to Egypt and Sudan that the second filling will be a volume of 13.5 billion cubic meters, and that the total water behind the dam will reach 18.5 billion cubic meters, while he knew that it was impossible to achieve this."
The researcher said that the same issue applies to the dam's alleged power capacity. Two turbines that were supposed to operate since the dam's first filling have sat still, as the dam was not built to proper specifications.
Even after the second filling, the two turbines at the bottom of the dam will not work, he claimed, adding that the Irrigation Minister has announced that the two are not ready to work but will be equipped in the coming months.
Meanwhile, Abiy Ahmed congratulated his people on the completion of the second filling of the Renaissance Dam reservoir, amid great tension between Addis Ababa and downstream countries Egypt and Sudan.
Ahmed published new pictures of the dam on Twitter, after the second filling had completed.
Cairo and Khartoum strongly objected the second filling in the absence of a binding legal agreement between the three countries, who have been negotiating the issue for years.
Addis Ababa carried out the first filling of GERD in July 2020, according to what Ahmed's office announced at the time.
In a speech on Monday, Egyptian President Abdel Fattah al-Sisi affirmed that Egypt will not allow its share of the Nile waters to be compromised, stressing that Cairo is ready to cooperate with the Ethiopian side on the condition that its water interests are guaranteed.