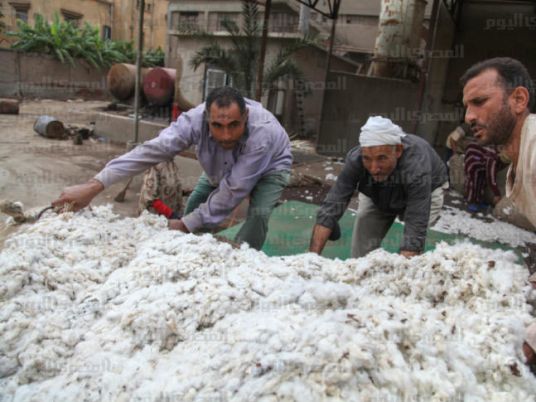 An additional 10,000 workers of the Egyptian Spinning and Weaving Company in Mahalla, Gharbiya, joined the strike, staged by 6,000 other company workers, to demand the disbursal of delayed bonuses, on Tuesday evening.
Over 6,000 workers of the Egyptian Spinning and Weaving Company in Mahalla began an open-ended strike on Monday evening, demanding the 10 percent bonus promised to them by President Abdel Fattah al-Sisi and the parliament as well as other delayed bonuses over months.
The workers refused to end the strike until the minister of business sector officially issues a resolution for the compensation owed.
The General Syndicate of Spinning and Weaving leaders negotiated with the Minister of Business Sector, Ashraf al-Sharqawy, and the President of the Holding Company for Cotton, Spinning, and Weaving, Ahmed Mostafa, on Tuesday and agreed to pay each worker a bonus between LE65 to LE130 after they resume work.
The workers refused to end their strike though until their financial dues are accrued, causing total paralysis in the company with 10,000 additional workers joining the strike.
The strike caused daily losses of over LE5 million.
Gharbiya Security Directorate deployed troops at the entrances and exits of the city, along with secret agents to quickly control the workers if marches or protests were to break out.
In related news, outrage prevailed among the workers of Misr Shebin El Kom Spinning and Weaving Company when the disbursement of their exceptional bonus, food allowance and other bonuses approved by Sisi, was rejected. The workers reduced production to only 10 tons a day, in an attempt to pressure the company's management to meet their demands.
Edited Translation from Al-Masry Al-Youm