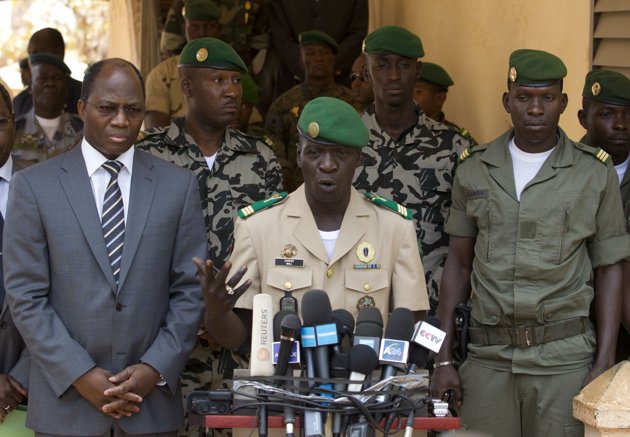 ABUJA and ADDIS ABABA ¾The African Union and West African regional bloc condemned army interference in Mali's politics on Wednesday after the prime minister was forced to resign.
They did not say how that would affect a plan for regional military intervention in northern Mali to help drive out Islamists and Tuareg separatists who seized two-thirds of the country in the chaos after a March coup.
Although the soldiers gave way to a civilian president and prime minister in April under international pressure, they have never been far from power.
Prime Minister Cheick Modibo Diarra resigned and dismissed his entire government on Tuesday after being arrested and taken to a barracks that served as headquarters for the former junta.
The head of the AU commission, Nkosazana Dlamini-Zuma "firmly condemned" the conditions of Diarra's resignation and repeated the demand "for the total subordination of the army and security forces to the civilian government."
The United States, France and the European Union have also condemned Diarra's forced resignation and the United Nations Security Council said it could consider targeted sanctions against those preventing a return to "constitutional order.
Fearing Mali has become a safe haven for terrorism and organized crime, West African leaders have signed off on a plan to send 3,300 soldiers to Mali to revamp its army and then support operations to retake the north.
Through the African Union, ECOWAS is seeking a U.N. mandate and international backing for the operation.
However, support for the military intervention is not universal and analysts fear the fresh political turmoil in Bamako could further discourage international support for the plan.
West African bloc ECOWAS promised to pursue efforts to end the crisis and reunite Mali, "dismantling terrorist networks in the North, and organizing free, transparent and inclusive elections."
Mali's interim President Dioncounda Traore named Django Cissoko, a former senior official in the president's office, as the new prime minister late on Tuesday.
The AU's peace and security commission will meet in the Ethiopian capital Addis Ababa on Thursday to discuss the recent events in Mali. ECOWAS defense chiefs are due to meet in Ivory Coast on Saturday