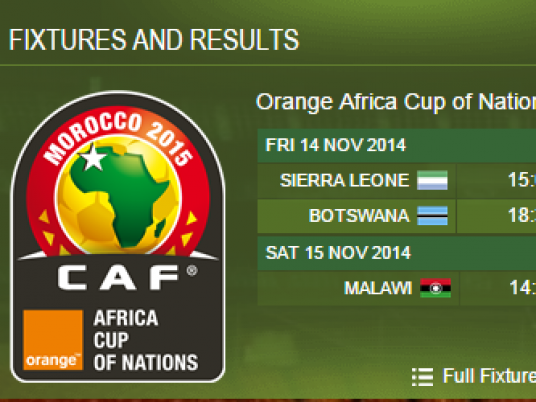 A late replacement must be found to host the 2015 African Nations Cup or the continent's showpiece soccer tournament faces being called off after Morocco rejected an ultimatum to go ahead with the event in January.
Fears over the spread of the Ebola virus saw Morocco reiterate its stance that the 16-team tournament, due to be played from Jan. 17-Feb. 8, should be postponed.
The Confederation of African Football (CAF) refused to entertain a change of dates and must now find an alternate host as quickly as possible or face annulling the event at great financial cost.
CAF have approached other African countries to step in as an emergency replacement but have so far received no public expressions of support.
A meeting of African football's governing body in Cairo on Tuesday now faces the prospect of having to cancel their gala event, unless they have a solution in their back pocket.
"We will not be making any statements until after the meeting makes a final decision," CAF media director Junior Binyam told Reuters.
A risky gamble to call Morocco's bluff looked to have backfired on Saturday as the country's sport minister repeated a fear the tournament could spread Ebola.
"This decision is motivated mainly by the medical risks that would put this virus on the health of our fellow Africans," Mohamed Ouzzine said in a statement.
In addition to health concerns, the statement said, Morocco's decision was also "motivated by humanitarian reasons since it is our responsibility to welcome all guests and supporters in the best conditions in accordance with the culture and hospitality of Moroccan traditions".
TOURIST INDUSTRY
Morocco is concerned that supporters from west Africa converging on the country for the tournament could bring with them the deadly virus and put at risk their important tourist industry.
Global health authorities are struggling to contain the world's worst Ebola epidemic since the disease was identified in 1976 and cases have reached as far as the United States and Spain.
Morocco also insisted they could host the tournament later, highlighting that CAF had back-to-back Nations Cups in 2012 and 2013 when it switched from hosting the event in even to odd years and could reverse the process in 2016 and 2017.
CAF, who garner the majority of their revenue from the tournament's television and marketing rights, have cited a packed calendar for their refusal to consider a June date or a move to early 2016.
They also characterised Morocco's concerns as alarmist, pointing out that Nations Cup tournaments do not attract large traveling support because few African fans had the resources to follow their teams.
The impasse looks likely to deprive Africa of a much-anticipated event that is regularly able to capture the imagination of millions.