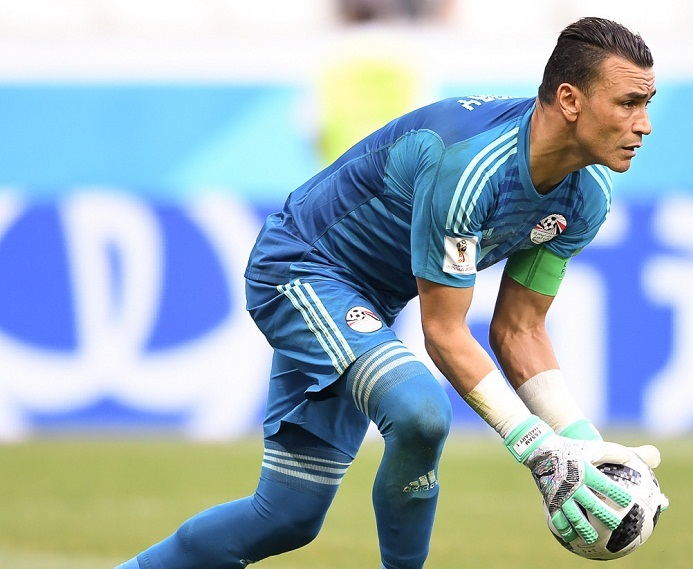 After a long and fruitful history, Egypt's national team goalkeeper Essam el-Hadary has hung up his gloves and officially announced his retirement from international footballing after more than 22 years.
"Each beginning has an end, this is life, and after thinking deeply I decided to quit the international matches after almost 22 years, 4 months and 12 days. I believe it's the most suitable moment to hang my gloves, after I've achieved all what I dreamed of with the national tea," El-Hadary said on an official statement.
While on the glass-half-full, El-Hadary still plans to participate in national tournaments,  as he has inked a contract with Ismaily SC, football team last July.
"Now comes the moment that I haven't been waiting for," he says "I've been borne the hardest conditions and the toughest exercises all day and night, to satisfy your expectations and I'll stay the best goal keeper of the team for consecutive generations".
He also expressed his pride with the national team, whose net he successfully guarded in 159 international matches, taking part in unprecedented achievements such as winning the African Nations champion cup in 1998, 2006, 2008 and 2010, and being crowned as the best goal keeper.
Moreover, he snatched the runner-up title in 2017 in The African Championship and also participated with the national team to win the gold medal of the Arab Games in 2007, before finally has achieving the far-fetched dream of reach in the 2018 World Cup in Russia.
The goal-keeper also broke records for another reason as the oldest player in World Cup history at 45 years old.
Thankful for everything, El-Hadary concluded "Finally, I thank God for all the achievements and I hope I have succeeded in my mission over the past years. I extend my thanks and gratitude to my family, who have borne the hardships of my life and supported me in all my steps. I am grateful and I'd like to thank you for your continuous support, which has been and will remain the power of success."
On Twitter, former Egyptian footballer Ibrahim al-Said showed his sadness over al-Hadary's decision, describing it as "a big loss".
"We had a great goalkeeper, who was giving confidence to everyone inside and outside the stadium; no matter whether you are with or against him, he is the best goalkeeper in Egypt football history and he pleased us many times, I hope him the best in what is to come," al-Said said.