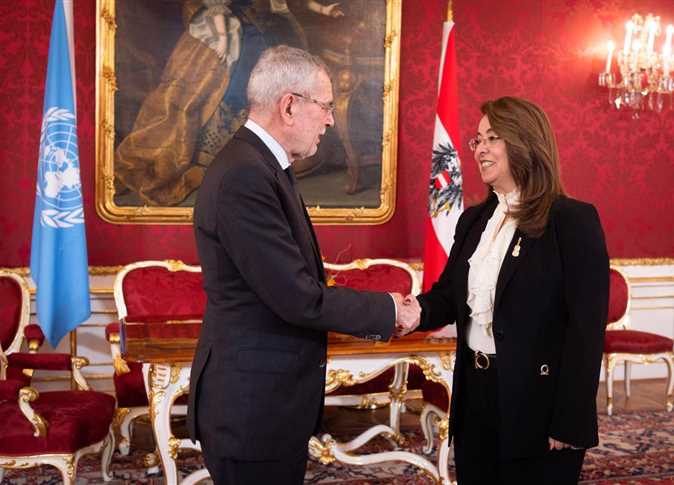 The President of Austria Alexander Van der Bellen on Wednesday received Egypt's former Social Solidarity Minister Ghada Wali, now the Executive Director of the United Nations Office on Drugs and Crime (UNODC), at the Hofburg Palace – the former imperial palace in the center of Vienna.
Wali assumed the duties of her international position in Vienna as the Executive Director of UNODC and Director-General of the United Nations Office in Vienna.
After being officially received in the headquarters in Vienna, Wali held a meeting upon her arrival with workers and inspected the organization's headquarters in Vienna.
Bellen welcomed Wali's work in Vienna, and congratulated her on assuming this high international position.
The meeting discussed cooperation between the Austrian government as the host of UNODC headquarters and the United Nations (UN), in celebrating the 65th anniversary of Austria's accession to the UN and 75 years since the establishment of the UN.
Wali thanked the Austrian President for hosting the UNODC, stressing the importance of multilateral diplomacy. Austria's president affirmed his keenness to raise awareness in Austrian society about the UN's role, especially among young people.
Wali and Bellen agreed to develop an awareness and information plan in line with the international celebration of the UN's 75th anniversary.
The Austrian president also arranged an inspection tour of the Hofburg Palace for Wali.
Edited translation from Al-Masry Al-Youm