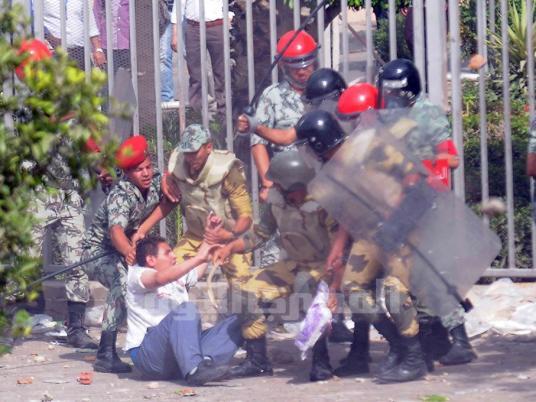 Following the assault and detention of several journalists covering clashes in Abbasseya on Friday, the Journalists Syndicate board announced on Sunday its intention to sue the ruling military council and others involved in the aggression against journalists.
"The red line has been crossed and the assaults against journalists have reached an unacceptable level," said Abir Saad, the deputy head of the Journalists' Syndicate. "We have reached our wits' end and this time we will have a strong response."
The Committee to Protect Journalists said in a report on Saturday that 18 journalists were either assaulted or arrested.
The syndicate also announced in the press conference on Sunday the formation of a new front made of lawyers and journalists to protect all Egyptian and international journalists working in the field, regardless of their membership in the syndicate.
"There was an obvious targeting of journalists by thugs and military police," said Khaled El Balshy, the editor-in-chief of Al-Badeel news website. Two Badeel journalists were the last journalists to receive orders to be released.
Balshy said that after taking equipment from journalists, the thugs reported to individuals standing nearby, which he says proves that they were part of an organized effort to terrorize journalists and not acting on their own.
Following phone calls between the military council and the head of the syndicate, the syndicate says that all journalists arrested in the events received orders to be released. However, some remain in custody awaiting procedures.
In the press conference, arrested journalists gave their testimonies on one of the fiercest attacks on the freedom of press in the last turbulent months.
Journalists said that anyone spotted with a camera was subjected to assault and arrest and that they have seen coordination between the thugs and the military police in their systematic attack on journalists.
Saad said that her communication with the military's morale affairs department revealed its disregard for the journalistic mission.
Saad said that when she contacted the military's morale affairs officer, who is responsible for interaction with the press, he asked her what the journalists were doing at the clashes in the first place.
Saad also announced that the International Federation of Journalists has informed the syndicate that it will contact the military council on Monday requesting the formation of an independent front to investigate the violations against journalists.
Journalists have faced similar attacks while covering other clashes since the military council came in power. This incident, in which the complete news team of a television channel was among the arrested, marks an escalated and more systematic continuation of these attacks.