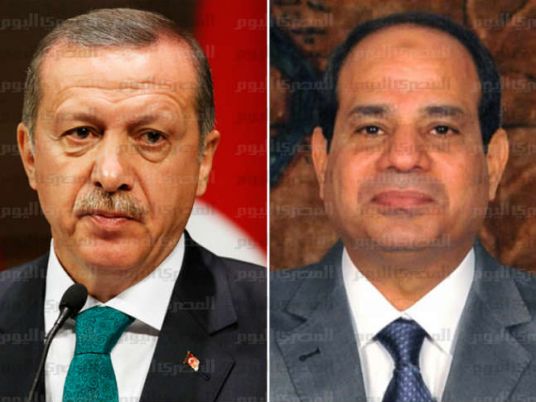 Turkish President Recep Tayyip Erdogan said that his country will seek steps of rapprochement with Egypt, after positive talks with the UAE.
Erdogan's statements came in a meeting, Monday, with journalists on board a plane, coming from Turkmenistan.
Turkey's ties with Cairo have been poor since the military overthrew Egypt's first democratically elected president, Mohamed Morsi of the Muslim Brotherhood. Erdogan, whose ruling AK Party is rooted in political Islam, had been a strong supporter of Morsi. course be in a position to appoint an ambassador within a certain period of time," he said in response to a question about possibly appointing an ambassador for Turkey in Egypt.
"Currently there is no ambassador, but there is a charge d'affaires", said Erdogan.
Turkey has taken rapprochement steps with Egypt last year, as the two parties have held rounds of exploratory talks in Ankara and Cairo, which did not lead to a full normalization of relations.
On Wednesday, Sheikh Mohamed bin Zayed Al Nahyan, Crown Prince of Abu Dhabi and Deputy Supreme Commander of the UAE Armed Forces, made a fruitful visit to Turkey, during which he met with Erdogan. Strategic agreements were signed between the two countries during the visit.
In his statements Monday, Erdogan confirmed he plans to visit the UAE in February, stressing that the agreements signed with the UAE during talks in Ankara "will begin a new era" in the relations between the two countries.
During an interview with the American news agency Bloomberg in September, Egyptian Prime Minister Mostafa Madbouly said that the main issue for Egypt was Turkey's current presence in Libya.