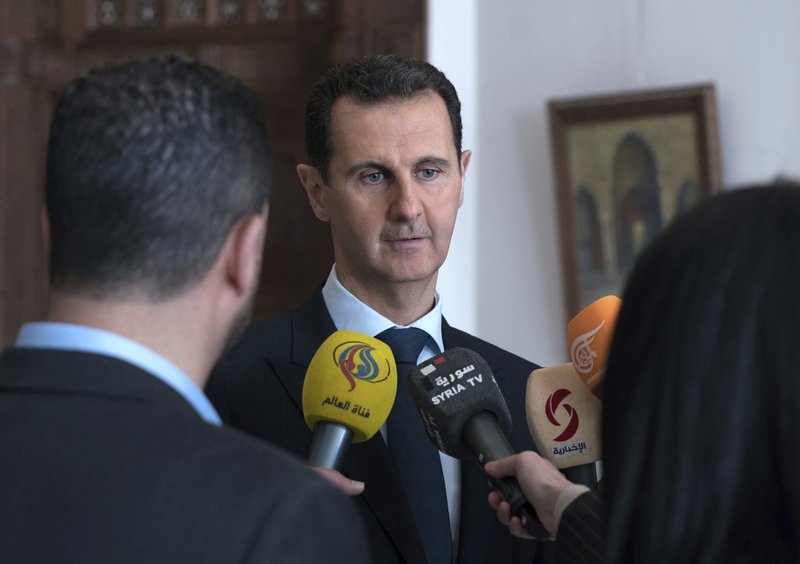 Desperate for food and basic medicines, many of the besieged and bombarded Syrian civilians in Damascus' eastern suburbs of Ghouta awaited Monday for a 46-truck convoy organized by the United Nations and key aid agencies to enter the rebel-held enclave.
Pawel Krzysiek of the International Committee of the Red Cross said the inter-agency convoy had arrived in Wafideen, a key crossing point set up by the Syrian government for civilians wishing to leave eastern Ghouta and also for aid to enter the enclave. If allowed in, it would be the first aid delivery in weeks.
"Feels like racing with time," Krzysiek said in a tweet. Eastern Ghouta, home to some 400,000 people, has been under a crippling siege and daily bombardment for months. More than 600 civilians have been killed in the last two weeks alone
The delivery would be the first to the region in nearly three weeks.
The U.N.'s office for humanitarian affairs and the World Food Program says Monday's convoy to the town of Douma in eastern Ghouta will consist of 46 truckloads of health and nutrition supplies, along with food for 27,500 people in need. U.N. officials had said lack of approvals and consensus among the warring parties, as well as the limited duration of a daily, five-hour Russian-ordered humanitarian pause, had made aid delivery impossible.
The Syrian government, meanwhile, says it has achieved "significant" progress in its ongoing military operation in rebel-held suburbs east of Damascus, seizing around 36 percent of the total area held by different armed groups.
Syria's Central Military Media says troops are continuing their advance from the east and are only 3 kilometers, or 1.8 miles, from meeting troops advancing from the west, which would achieve the partitioning of eastern Ghouta into two parts.
Monday's announcement comes a day after troops recaptured control over the town of Nashabiyah and a number of villages and farms in eastern Ghouta in the largest advances since the government's wide-scale operation began last month.