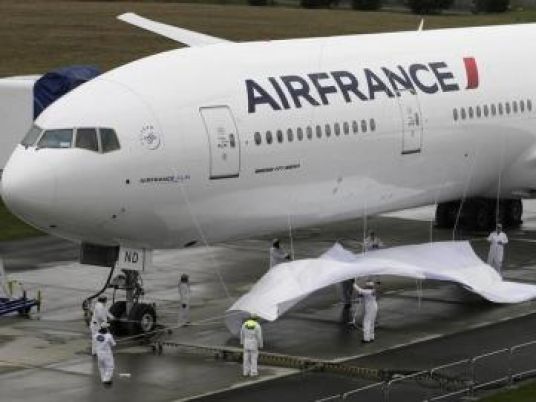 Air France-KLM has urged Egypt to release upward of 100 million Egyptian pounds (US$13 million) in revenue it is unable to repatriate due to an acute dollar shortage, saying the delays were making it increasingly difficult to operate in the country.
Cees Ursem, Egypt country manager, said the Franco-Dutch airline had been unable to transfer earnings out of the country since October and had last week asked the tourism minister and central bank governor to help resolve the delays.
There was no immediate comment from the central bank.
"All the foreign carriers they have the same problem," Ursem told Reuters by telephone.
"It is a very, very serious problem because all our revenues are blocked at the bank, but at the same time we do have all the same costs ongoing like leasing the aircraft, the fuel, the staff, overflying rights, ground handling, etc, which have to be paid in dollars, so how do you suppose that we can sustain these operations?"
Import-dependent Egypt has been facing an acute dollar shortage since a 2011 uprising and subsequent political turmoil, which drove away foreign investors and tourists, key sources of foreign currency. Foreign exchange reserves have more than halved to $16.4 billion.
The crash of a Russian airliner over Egypt's Sinai in late October, killing all 224 people aboard, has further impacted tourism in the Red Sea area, and with it Egypt's dollar earnings.
The Egyptian pound has come under downward pressure as reserves have tumbled, but the central bank is reluctant to devalue for fear of further fuelling double-digit inflation.
Instead, it has sought to preserve forex reserves for food, fuel, medicines and manufacturing components, by imposing restrictions on bank deposits and transfers for non-essential goods and services.
But the restrictions have hampered manufacturing and trade and made it harder for foreign investors to repatriate revenues.
Economists say those problems, plus a widespread conviction that devaluation is ultimately unavoidable, are discouraging the foreign investors Egypt needs to rebuild its forex reserves.
Ursem said the airline, which operates 10 flights a week out of Egypt, was not about to suspend operations in the country but financial pressure was mounting.
"We have been supporting Egypt throughout the past five very difficult years … but we cannot transfer our money? This is not fair," Ursem said. "We have all the good intentions to help and support the country so why are they now pushing us in this situation?"
($1 = 7.8300 Egyptian pounds)