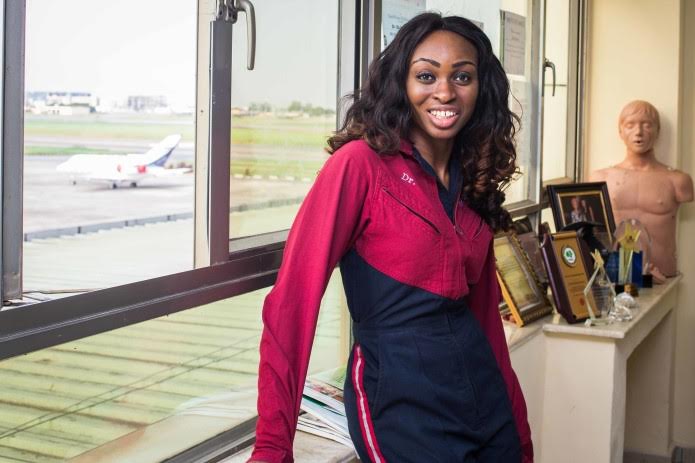 By Anwuli Nkem, Flying Doctors Nigeria
Few would have predicted that the first air ambulance service in West Africa would be launched by a 23-year-old woman. The year was 2007, and the woman was Dr. Ola Orekunrin (now Dr. Ola Orekunrin-Brown). Following a personal tragedy, she channeled her grief and courage into an initiative that has saved hundreds of lives.
Born in England, she grew up in a small town in southeast England and went on to study medicine at the University of York. While she was completing her studies, her 12-year-old sister fell ill while vacationing with relatives in Nigeria. She needed to be airlifted to a hospital where she could get proper treatment, but to the great dismay of Dr. Orekunrin-Brown and her family, the closest air ambulance they could find was in South Africa. Her little sister died before help could arrive.
It was anguishing for Dr. Orekunrin-Brown to know that her sister didn't die because of her illness, she died because she couldn't access treatment in time. The tragedy would stay with her as she completed her medical studies, graduating at age 21 to become one of the youngest doctors in the country. Once she started working, she began saving every penny she could with the idea of perhaps starting an air ambulance charity.
She eventually traveled to Nigeria to take up the challenge, initially studying the models in other developing countries. She soon came to the conclusion that a business would be a better way to realise her goals, and she went about raising money—a considerable challenge for a young woman. She also had to deal with tedious bureaucratic processes and a host of other issues. With no business experience, she had to learn as she went, giving up many of the activities that young people in their twenties enjoy in order to devote herself to her project.
Her drive and perseverance paid off, and before long she became the CEO of Flying Doctors Nigeria Limited. Her new company offered air evacuation services to the private and public sector as well as wealthy individuals, airlifting injured workers from offshore oil rigs, for example, or repatriating sick British expats.
But with international evacuations costing about $60,000 and local evacuations about $20,000, she knew she needed to offer a more affordable option as well. She eventually came up with the idea of using unsold space on airlines, building special units that could easily be installed over a row of seats. The ingenious concept managed to bring the cost down to about $1,000, and has been a win-win for airlines and patients alike.
Based in Lagos, Flying Doctors now has outposts across the country, with 20 charter aircraft and 44 doctors who deliver quality care en route, fulfilling the company's promise to get "the right patient to the right facility within the right time frame." Dr. Orekunrin-Brown has made a point of ensuring that her company's services are available to people in remote areas of Nigeria, saving the critically ill as well as victims of car accidents, gunshot wounds or other traumas.
To date, Flying Doctors Nigeria remains the only indigenous air ambulance service in West Africa and has transported some several hundred patients. The life-saving service has earned Dr. Orekunrin-Brown and her team numerous accolades and awards. Most recently, she won the 2018 Extraordinary Business Achievement Award presented by The Silverbird Group, a Nigerian multimedia company. She is the youngest person ever to win the prestigious distinction and the only woman to have done so in the past decade.
She has also been named one of the "100 Lionesses of Africa"—extraordinary African women whose example serves to motivate and inspire other potential entrepreneurs. Speaking at their 2016 annual conference, she said, "Here's to the women who will change the narrative of African women: May we know them, may we be them, may we raise them."
Photo: Portrait of Flying Doctors Nigeria's founder, Ola Orekunrin
Credit: Flying Doctors Nigeria