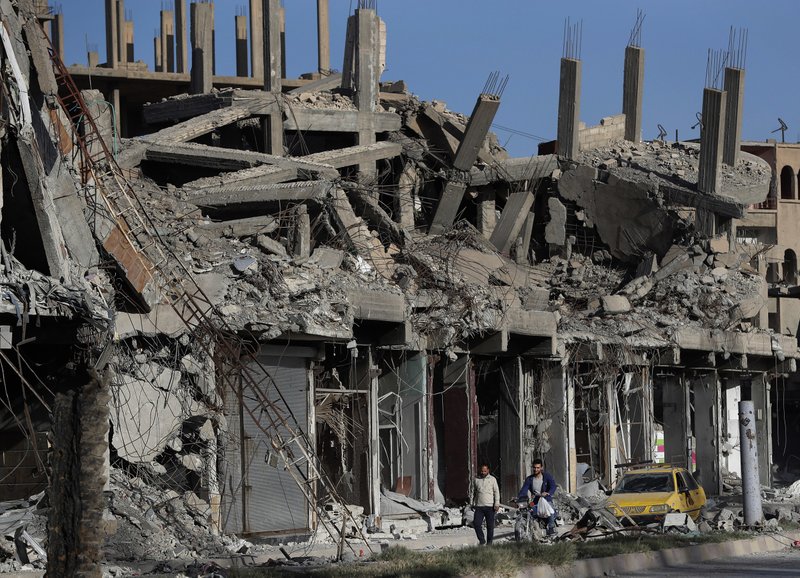 MOSCOW (AP) — Russian warplanes carried out more than a dozen airstrikes in northwest Syria on Tuesday, opposition activists said, hours after a roadside landmine hit a joint Russian-Turkish patrol in the area wounding three Russian soldiers and an unspecified number of Turkish troops.
The Russian military said the mine attack happened while Russian and Turkish troops were patrolling the M4 highway in the southern part of the Idlib de-escalation zone.
Russia and Turkey have been conducting regular patrols in Idlib province, the last major rebel stronghold in Syria. The M4 highway links Syria's coast with the Iraqi border to the east.
It said the wounded Russian soldiers were quickly evacuated to the Russian base at Hemeimeem and their lives weren't in danger.
A Turkish armored vehicle that was taking part in the patrol was also damaged and some of its crew were wounded, the Russian military said. It didn't say how many Turkish servicemen were involved.
Later on Tuesday, Russian warplanes carried out more than a dozen airstrikes on rebel-held parts of Idlib that have witnessed relative calm since early March. Turkey and Russia had brokered a cease-fire that stopped a crushing government offensive that left hundreds dead and hundreds of thousands displaced.
The Britain-based Syrian Observatory for Human Rights, an opposition war monitor, reported 18 Russian airstrikes following the blast. The group said government forces shelled the rebel-held town of Ariha wounding five people.
Hadi Abdullah, an Idlib-based activist, said Russian warplanes attacked areas in Idlib province and rebel-held parts of the coastal province of Latakia.
Idlib is home to some three million people, many of them internally displaced. It is the stronghold of al-Qaida-linked Hayat Tahrir al-Sham, the most powerful group in the region.
The area is also home to extremist groups that are opposed to the cease-fire reached in March. Turkey backs Syrian rebels while Russia has joined the war in 2015 tipping the balance of power in favor of President Bashar Assad.
___
Image: In this April 5, 2018 file photo, destroyed buildings line a street damaged during fighting between US-backed Syrian Democratic Forces fighters and Islamic State militants, in Raqqa, Syria. Amnesty International and Airwars, a London-based watchdog group, said Thursday, April 25, 2019, that the US-led coalition killed more than 1,600 civilians in the northern Syria city of Raqqa during months of bombardment that liberated it from the Islamic State group. They said the toll came after the "most comprehensive investigation into civilian deaths in a modern conflict." (AP Photo/Hussein Malla, File)