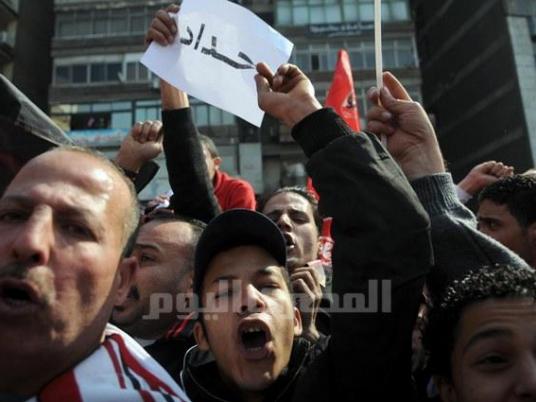 Al-Azhar Grand Sheikh Ahmed al-Tayyeb and Grand Mufti Ali Gomaa have both announced their rejection of calls for civil disobedience on 11 February.
Saying work should not be "delayed one hour," both sheikhs said Egyptians "should fulfill their duties to themselves, families, country and people."
Students and activists have issued calls on Facebook for nationwide civil disobedience starting on 11 February, the anniversary of former President Hosni Mubarak's resignation.
Actvists are starting what they call the "Third Revolution of Anger" because the ruling military council "refused to listen to the opinion of the millions who took to streets on 25 January 2012 to demand the transfer of power to an elected president before drafting the constitution," the Facebook page read.
"This is just the beginning of civil disobedience. All that is required from you is that you sit at home, and if you are obliged to go out, then strike at the company, factory, school or university."
Some 11 universities and dozens of political groups are promoting calls for the civil disobedience until the military rulers step down. Several labor unions, the April 6 Youth Movement and supporters of Mohamed ElBaradei will also take part.
The Muslim Brotherhood said it would boycott plans for civil disobedience and urged citizens to do the same.
Islamic thinker and presidential hopeful Mohamed Selim al-Awa also criticized the move, saying it would impede Egypt's democratic transformation and the handover of power to an elected civilian president within three months. At a press conference on Tuesday in Aswan, Awa described those who call for civil disobedience as the "third party who want Egypt to plunge into chaos and return to square one."
Awa alleged the planned civil disobedience is a conspiracy being organized by former regime figures who are currently on trial. He said they are the masterminds behind the recent clashes, along with groups that have received funds from abroad and Israel, state news agency MENA reported.
In a statement issued Tuesday, the mufti and grand sheikh said it is not appropriate to incite civil disobedience at this time, when "the Egyptian economy has been temporarily shaken by our revolutionary positions … "
"We all have to insist on carrying out our duties," Gomaa said, adding that delaying work will only squander the country's resources.
Finance Minister Momtaz al-Saeed on Tuesday put the total amount of resources available to fund the budget at LE350 billion, while the deficit is LE141 billion, or 8.6 percent of the gross domestic product.
Also on Tuesday, the Central Bank of Egypt said foreign reserves fell by US$1.77 billion in January to $16.35 billion after dipping by around $2 billion in each of October, November and December.