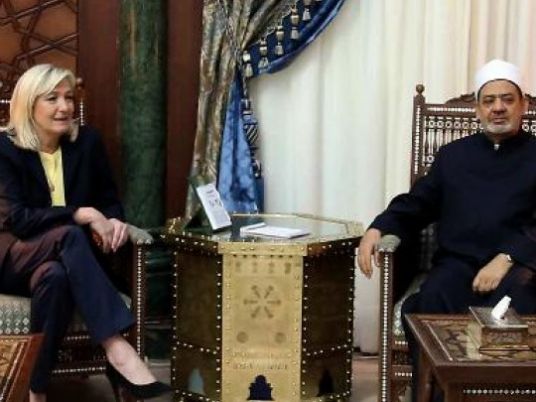 Al-Azhar, the highest seat in Sunni Islam, on Friday defended its meeting with France's far-right leader Marine Le Pen as an opportunity to show her the religion's "true face".
Al-Azhar's grand imam, Ahmed al-Tayeb, used the surprise meeting on Thursday during a Cairo visit by Le Pen to voice concerns over her party's "hostile positions towards Islam and Muslims" as reported by the international media.
Tayeb urged the National Front president in their talks at the institution's Cairo headquarters "to review and correct her positions", Al-Azhar said in a statement on its website.
The tone was harsher than the institution's initial account of the meeting that stated Al-Azhar's head had called for efforts to counter "Islamophobia in Western countries".
Abbas Shoman, the imam's deputy, told AFP that "certain essential points are sometimes omitted in statements and we then correct them".
"If she had a mistaken understanding of Islam, A-Azhar's sheikh wanted to show her the true face of Islam," he said.
Le Pen had acknowledged during the talks that a distinction must be made between the religion and acts of violence committed by those falsely claiming to be acting in the name of Islam, Al-Azhar said.
And she had recognized "the right of French Muslims to practice their faith and express it in full freedom".
Le Pen, who did not wear a veil during the meeting, has tweeted: "Meeting in Cairo with the highest Sunni authority: strong agreement on the fight against extremism."
She also met Egypt's Coptic Christian pope in a show of solidarity with Christians threatened by rising Islamist militancy in the Middle East.
The National Front, which made a strong showing in France's local elections in March, has campaigned on politically explosive issues of immigration and the integration of Islam into French society.
Thursday's talks were held at Le Pen's request, Al-Azhar said.
The millennium-old institution is the top theological center of Sunni Islam, the religion's main branch, and has sought to promote moderate Islam and dialogue with Christians.
Al-Azhar supervises several universities across Egypt offering courses to thousands of Muslim students from around the world.