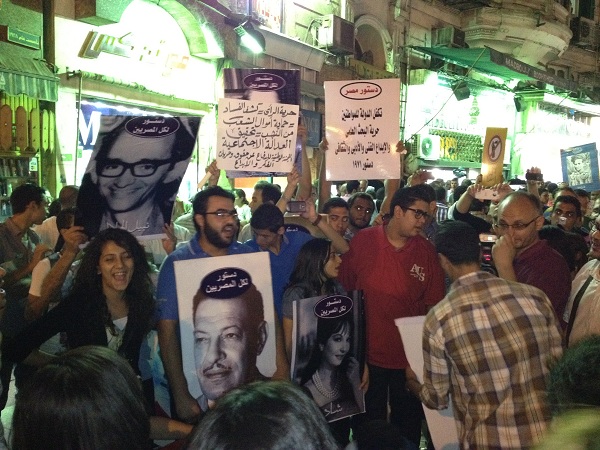 The Dokki Misdemeanors Court on Monday adjourned the trial of Islam Afify, editor-in-chief of privately owned Al-Dostour newspaper, to 15 October.
Afify faces charges of defaming and publishing false and slanderous information about Essam al-Erian, the acting head of the Muslim Brotherhood's Freedom and Justice Party.
The charges are based on a story published 21 June that the prosecution said might have spread panic, disturbed public stability and harmed the public interest.
In the news story, Afify accuses Erian and Brotherhood leader Khairat al-Shater of holding a secret meeting between the Brotherhood and the Freedom and Justice Party to prepare for violent acts if former presidential candidate Ahmed Shafiq, Hosni Mubarak's last prime minister, had won.
Shafiq was running against the Brotherhood candidate, Mohamed Morsy, who won the election.
The news story said, "In the case of Shafiq's victory, demonstrators will be shot by snipers from the Brotherhood in the main square of the country."
It goes on to talk about "nomadic groups" that were to "attack checkpoints in Sinai in order to stage a coup against the president and the Armed Forces," and alleged that "300 public figures in several governorates who oppose Shafiq" would be killed, if Shafiq won the election, so that they could instill fear and panic in order to subdue the people and to implement the Brotherhood project.
The article also accused the Brotherhood of plotting to assassinate former President Hosni Mubarak, his two sons and former leaders of the country, dissolve the police and attack the Rafah border crossing with missiles, and alleged that Erian hired thugs and convicts to burn the homes of senior police officers.
The case against Afify raised eyebrows about the state of the media, with many advocates of freedom of expression condemning the Brotherhood for reviving Mubarak-era policies that limited press freedom.
Edited translation from Al-Masry Al-Youm