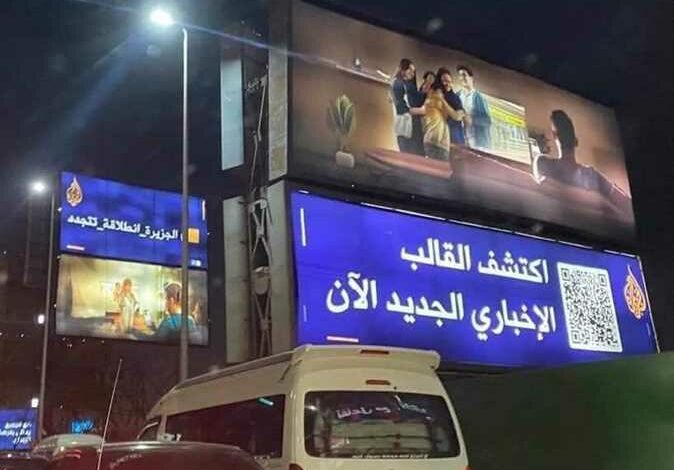 Advertisements for the Qatari news channel al-Jazeera have popped up in the streets of Cairo, alongside a billboard atop the 6th of October Bridge in the direction of Nasr City.
"Discover the new news template now… al-Jazeera in a renewed start," it reads.
In August 2013, the Egyptian security forces shut down the bureau of al-Jazeera news channel in Cairo for spreading false news and the views of the Muslim Brotherhood banned group. The government's decision came immediately after the army's statement to dismiss the late President Mohamed Morsi.
Egypt and other Arab neighbors including UAE, Saudia Arabia and Bahrain broke off diplomatic relations with Qatar in 2016 over its alleged support for terrorism.
Nevertheless, relations between both countries have resumed in January 2021. Egyptian President Abdel Fattah al-Sisi met with the Emir of Qatar, Sheikh Tamim bin Hamad Al Thani, during their attendance at the Global Climate Summit, COP26, where they both participated in the opening session at Glasgow, Scotland.
Egypt's presidential spokesperson, Bassam Rady on Facebook shared a picture of the meeting which included a warm handshake between the two leaders.
In May, the Emir of Qatar, Tamim bin Hamad Al-Thani, invited Egyptian President Abdel Fattah al-Sisi to Doha, in a message conveyed by Qatari Foreign Minister Mohammed bin Abdulrahman Al-Thani.
In June, Sisi invited the Emir of Qatar to visit Egypt.
Al-Jazeera is a government news television channel affiliated with al-Jazeera Media Network, founded on November 1, 1996, and headquartered in the Qatari capital, Doha.
Starting off as a satellite channel for Arab news and current affairs, it expanded to become an international media network with a number of outlets including the Internet and television channels specialized in multiple languages.
In June 2012, the beIN Sports channel package was opened in France, affiliated with al-Jazeera network, headed by Nasser al-Khelaifi.
It specializes in sports programmes, and includes 10 channels.