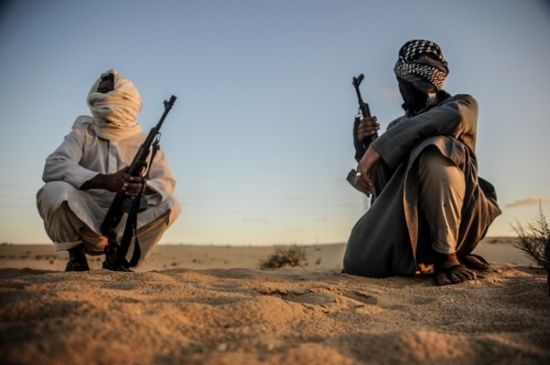 A little-known militant group called Jund al-Islām, inspired by Al-Qaeda ideology, declared on Saturday that it carried out a military attack against the Islamic State's Egyptian branch Sinai Province, describing the group as 'Kharijites,' or apostates.
Through a voice statement, Jund al-Islām explained that the Sinai Province is violating Islamic Sharia law because it targets civilians and brands them as apostates.
The obscure group said that a number of its militants engaged in military confrontations with an armored vehicle belonging to the Sinai Province. The attack's aim had been to arrest some members of the Sinai Province in order to investigate them for crimes they have committed against civilians.
Jund al-Islām caught Egyptian media attention in 2013 when it claimed responsibility for the bombings that targeted the facilities of the Egyptian Military Intelligence located in the North Sinai city of Rafah.
At that time, the group was emerging as a militant organization that subscribed to the ideology of Al-Qaeda, which is contrary to that of IS.
Disputes erupted between Jund al-Islām and the Ansar Bayt al-Maqdis group, currently known as Sinai Province, when the latter pledged allegiance to IS and its leader Abu Bakr al-Baghdadi in November 2014.
Jund al-Islām objects to the excessive killings conducted by IS and the Sinai Province against civilians. Instead, the group prioritizes the targeting of military officers.
Through the voice statement released by the group, it called on members of the Sinai Province to surrender themselves and repent on the crimes they have committed against their fellow Muslims.
"The group of Jund al-Islām will do its best to eliminate the presence of the apostate group of Sinai Province. We are now calling the seduced members of Sinai Province to leave the group and stop killing Muslims," the voice statement said.
The Sinai Province group has committed numerous violent acts against civilians in North Sinai, including brutal killings of Coptic Christians. In response to the persecution, Copts in North Sinai abandoned the Peninsula in February in an unprecedented exodus.
On Thursday, five truck drivers were killed after a number of militants opened fire against them while they were passing al-Hasna-Baghdad road at a checkpoint located in Central Sinai.
The militants, who are believed to be members of Sinai Province set up the checkpoint on the road between villages of the al-Hasna-Baghdad where the five drivers were passing with trucks that were transferring oil, according to local journalist who preferred to be anonymous.