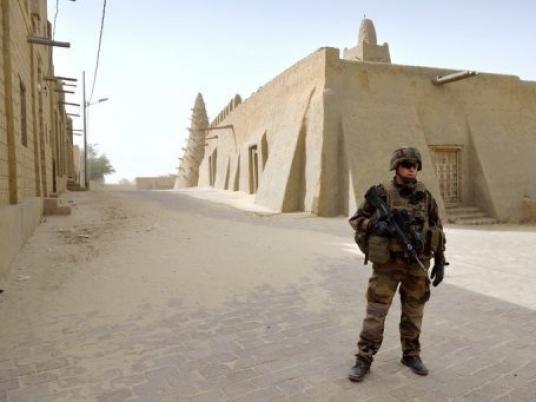 Al-Qaeda's north African division claimed responsibility Monday for a car bomb that rocked the Malian city of Timbuktu over the weekend, killing two civilians and wounding several soldiers, a report said.
"Two of our brave suicide bombers managed to reach the military base in Timbuktu in a vehicle carrying more than a ton of explosives," said a spokesman for Al-Qaeda in the Islamic Maghreb, according to the Mauritanian Alakhbar news agency.
The spokesman said the explosion in the famed desert city killed 16 soldiers and wounded many more.
"The operation also led to the destruction of several military vehicles and blew up some of the buildings in the barracks," the unnamed spokesman added.
The claim contradicts the army's statement, however, that four suicide bombers in the car when it exploded and two passers-by were the only people killed.
The attack on Saturday, which wounded six soldiers, was the first suicide bombing in the fabled mainly Tuareg and Arab caravan town since March.
It came a day after AQIM announced it had appointed Algerian Said Abou Moughatil to take over from Abdelhamid Abou Zeid, a key commander who was killed in fighting with French-led forces in northern Mali.
Abou Zeid, 46, was credited with having significantly expanded the jihadist group's field of operations to Tunisia and Niger, and for kidnapping activities across the region.
France confirmed in March that Abou Zeid had been killed "during fighting led by the French army in the Ifoghas mountains in northern Mali in late February".
Mali has been the target of a series of attacks claimed by Islamist insurgents since France launched a military operation in January against Al-Qaeda-linked groups including AQIM occupying the north of the country.
The French-led operation forced the extremists from the cities they seized in the chaotic aftermath of a military coup that overthrew Mali's government in March 2012.
Residual groups of these fighters are no longer able to carry out coordinated assaults, but are still capable of regular small-scale attacks, mainly against Malian and French soldiers.
On March 21, a suicide bomber blew up a car near the Timbuktu airport at the start of an overnight assault on the city, killing a Malian soldier.
AQIM grew out of a movement launched in the late 1990s by radical Algerian Islamists who sought the overthrow of the Algerian government to be replaced with Islamic rule.
The organisation linked up to Al-Qaeda in 2006 and has spun a tight network across tribes, clans, family and business lines that stretches across the vast Sahel region abutting the southern Sahara desert.
AQIM is currently thought to be holding eight Europeans hostage, including five French nationals, and earlier this month released a video deemed credible by France showing seven of them.