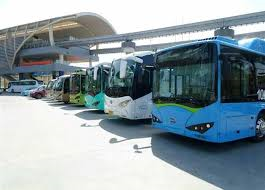 The General Transportation Authority announced on Tuesday that Egypt's first batch of electric buses from BYD Chinese company will arrive on June and will operate on the Corniche route in Alexandria.
Contracts for the 15 buses were signed last January, making Alexandria the first Egyptian and Middle Eastern city to have electric buses.
President of the General Transportation Authority Khaled Eliwa told press that the buses have a capacity of 90 passengers, and will come equipped with air conditioning, GPS trackers, special chairs for passengers with disabilities and WiFi.
Eliwa added that the value of these buses lie in the fact that they cause no pollution, and do not emit noise or gas emissions. Moreover, the cost of these buses is almost equal to the cost of those that operate with gas, which is equivalent to LE 4 million.
He added that these new buses operate on a maximum speed of 80 km/hr, with a 300 kilowatt engine, equivalent to 430 horsepower. As for the batteries, they take three to four hours to charge for every 250 km without air-conditioning, and three to four charging hours for every 210 km in case of air-conditioning.
Alexandria Governor Mohamed Sultan told press that Alexandria already has 750 buses of different sizes covering all its regions, adding that there is currently a direction towards increasing and improving public transportation over the next period.
Board President of Al-Amal Company for International Trade also said that the company mainly targets revolutionizing transportation in Egypt, starting with importing electric buses to Alexandria, adding that BYD created 14,000 electric buses last year in addition to 35 fuel buses in the past five years. He concluded that the contract includes maintenance services for the new electric buses.
January witnessed signature of contracts between BYD company and Eliwa after BYD won the bid for the electric buses.