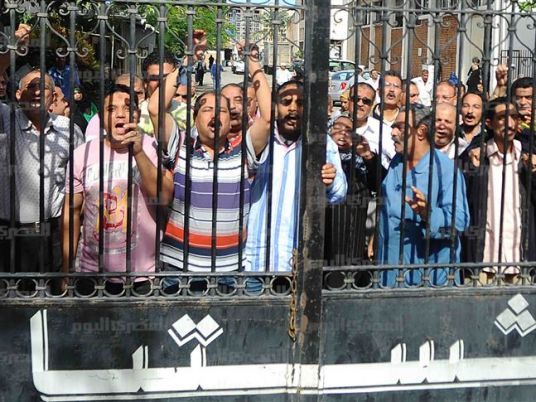 Textile workers at several companies in Alexandria escalated their protests on Sunday over delayed salaries and forced leaves.
More than 1,500 workers from Arab Polvara Spinning and Weaving blocked a major street in Alexandria's al-Awayed district over delayed salaries and their administrators' decision to extended their obligatory leave by 15 more days. The company's factory remains closed over a shortage in production materials and financial liquidity.
"Workers are objecting to the resumption of forced vacations," said Mohamed Shaker, one of the workers. "The administration is practicing intransigence with the workers as a first step towards laying them off and selling the factory," he added, noting that many other companies in the province are also witnessing a lack of liquidity.
Ahmed Mahmoud, another protester, said their protest was not only over the forced vacations, but also over the failure to disburse a 10 percent annual bonus approved by Egypt's presidency earlier this year, which the Finance Ministry deprived some employees in certain government sectors of, sparking a labor outcry.
In a similar action, workers at the Vestia textile company have also decried salary delays, as well as uncertainty over whether the administration was going to sell the land on which the factory is located.
Mohamed al-Afify, one of the workers, said the employees do not mind if the company land is sold provided the administration secures other jobs for them with fair contracts.
Edited translation from Al-Masry Al-Youm