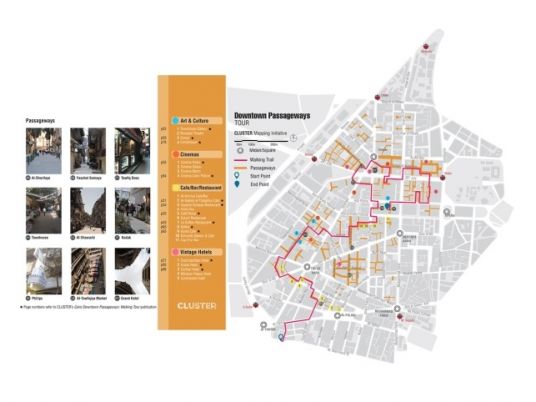 In capital cities across the world, visitors take tours, seeking to gain some appreciation of what's on offer, from the ancient archaeological heritage to the most modern spectacles. While many such tours are the same the world over, they also vary according to the particular character of the place, highlighting what makes the place stand out from the crowd.
In cities famous for their filmmaking, for example, cultural organzations will arrange tours of locations that featured in famous films, allowing film buffs to experience the settings first-hand. Such tours sometimes include showing visitors where local celebrities live and the places they frequent.
Another option, particularly in historic cities, is a tour of the more distinguished buildings, as well as old neighborhoods that have preserved their authenticity. Often, such tours are offered by the same institutions responsible for the upkeep and renovation of such historic buildings, so the guides know what they're talking about.
Cairo is a city that offers both options, and many more, with a rich history and culture that rivals New York, Paris and Rome. Downtown Cairo especially contains some beautiful old buildings from Egypt's past, and visitors are able to take tours that reveal some of the historical mystique of the place.
There are, in fact, tours organized by the Cairo Laboratory for Urban Studies Training and Environmental Research (Cluster), which also provides maps of Downtown to the Ismailia Real Estate Company, which organizes its own free tour of Downtown every Friday.
The idea of conducting tours in Downtown first popped up about six years ago. According to Amr Nagaty, the head of Cluster, the idea was not officially supported by institutions in the beginning. It began in 2010 through a project from the Modern Science and Arts Academy (MSA), which aimed to erase all the constructional gaps in Downtown, in order to revive the area.
The first attempt at Downtown tours emerged from the Studies in Cairo convention at the American University in Cairo in spring 2013. The convention discussed theories on how to go about reviving Downtown through constructional changes.
On the second day of the convention, six tours of different areas of Cairo were organized, including places like Islamic Cairo and Ard al-Lewa, 6th of October City, Ezbet al-Hagana and New Cairo. Participating in the tours were both Egyptians and foreigners, including specialists and students.
One purpose of the tours was to identify opportunities to improve the areas in question, especially in Downtown, the heart of Cairo. The tours represented efforts to raise the level of discussion about the currrent state of the city and what it needs to improve.
The tours continued in cooperation with with various professors and student from AUC and MSA. Ahmed Helmy, the former chairman of Al-Ismailia Real Estate Company, participated in one of the tours, after which he commissioned Cluster to organize a tour of Downtown to exhibit it's beauty and heritage. Indeed, they organized D-TOUR, a tour that included prominent buildings, cinemas, restaurants, cafes and artistic institutes.
Nagaty says that the last attempt to conduct tours of Downtown Cairo was a part of the Creative Cities convention at AUC last November. He explains that such tours are not just for touristic purposes. They have a bigger purpose, aiming to make people more familiar with the real Downtown Cairo, breaking the stereotypical image of the area as a romantic place with old buildings.
Nagaty feels that Downtown reflects an accumulation of changes both social and cultural over many decades, offering varied activities, such as bars, cafes, cinemas, hotels and antique stores, all of which add up to the real Downtown experience.
Downtown is often viewed as an open museum, but the above-entioned tours seek to challenge that view. While some people prefer to emphasise the area's historical character and opposed new cultural offerings, Nagaty says these new offerings are a crucial part of what Downtown is really like — as oposed to what it is imagined to be.
Below are a few of the tours currently on offer from Cluster and its partners, each highlighting a different aspect of central Cairo's culture, both past and present.
City of cinema
This tour visits the locations in Downtown where films have been shot, aiming to exhibit how the area inspired such varied stories in many filmmakers' minds. Older films aimed to use the picturesque architecture as elaborate backdrops in various scenes. More recent films have exhibited the more raw aspects of the area, such as the poverty and overcrowded living conditions in some parts.
Network of passages
This tour is focused on the various passages and alleyways in Downtown. Some are associated with particular business or leisure activities, particularly when streets are closed off, either officially or unofficially to make way for street markets and cafes, and only accessible by foot. The intricate network of passages and alleys make for local areas bursting with with genuine local culture.
The literary city
This tour focuses on the Cairo depicted in the works of novelists who wrote about Downtown. The tour takes its participants past different places, from the Ewart Hall in the AUC Downtown Campus, the French school, Tahrir Square, as well as bars, cafes and clubs. The spots visited are often locations of personal significance to particular Egyptian novelists, and those who take such tours may be able to better connect with the novelists' works.
Modernist architecture
This tour is focused on the architectural lines that denote a modernist approach. Downtown is where Egyptian modernist architects from the 1930s attempted new styles of construction. They made huge buildings, challenging the existing aesthetics of the area, aesthetics that had been applied by European architects. The modernist contribution to the area was part of a larger nationalist movement that wanted to make Egypt more Egyptian.
Bike tours
This tour aims to encourage more people to ride bikes around Downtown. Bikes move faster than feet, but they still allow people to stop and experience the local heritage and culture. Cairo is a great place for biking because the land is level, and it would certainly help reduce Cairo's carbon footprint. The tour starts in Tahrir Square and ends up where Townhouse Gallery used to be.
Photography tours
These tours were inspired by a study conducted by Venoise Photography Studios, a study that aimed to track down what happened to all the portrait photography studios that were around in the 1950s and 1960s, most of which have since disappeared. All that's left are small studios that take passport pictures and whatnot, and these form the backbone of this very original tour, along with the locations of the orginal studios that have now disappeared.
For more information on Cluster tours visit: http://clustercairo.org/cluster/mapping-and-tours/downtown-tours
For more information on D-TOUR visit: http://www.cairo-dtour.com/page/contact