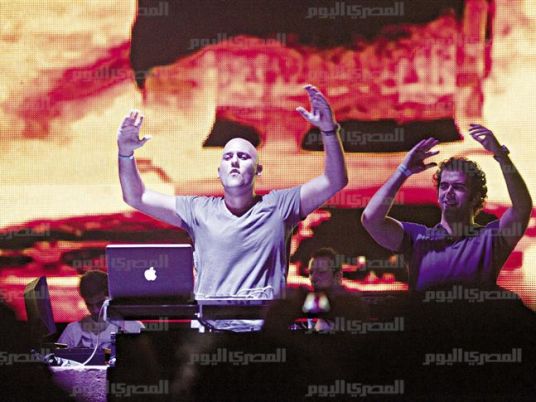 "Directly from Cairo, the largest city in the Middle East, with her 30 million citizens and her oldest civilization in the world, you are listening to Aly & Fila."
This is how the Internet Radio program Future Sound of Egypt starts every week, with Aly and Fila, the Egyptian duo specializing in electronic music that are ranked No. 28 in the world. They have four million listeners every Monday on the Digitally Imported site.
The beginning
Aly Fathalla (Aly) and Fady Naguib (Fila) are childhood friends who love Trance Music. Their story began in 1997 when Fila traveled abroad and bought the CDs of the famous German DJ Paul Van Dyk, their role model until today.
"There was no YouTube at that time to show us how we could make music," says Fila. "Ali used to play the piano and I used to merge different songs in one like a DJ. Our neighbors called to police several times from the noise we used to make.
Fila went to a conference in Germany specialized in electronic music and gave the manager their first album, which contained nine songs. He feared the man would steal their songs, but Ali said it would not matter.
Two weeks later, the manager, Ralph, called them and said a production company is interested in producing the third song of the album "Eye of Horus," which came No. 4 in the 2003 top songs of the Netherlands, the home of electronic music.
Tiësto, the No. 1 DJ in the world at that time, played it in many of his parties, and so did Van Dyk.
But one day when they were hosting a concert in Mexico, Ali's ear nerves were injured from a distortion in the sound, and he could no longer host concerts or travel by plane. And so Fila took over this job.
Success after trouble
They launched the first episode of their Internet Radio program in 2006. And in 2008, their program was ranked No. 31 in the world. Their song "Lost Language" was a big hit that the famous Dutch producer Armin Van Buuren liked. He asked them to be his partners in his company Armada, and they opened a subsidiary of it in Egypt.
"We help Egyptians produce the same kind of music," says Ali.
Egypt around the world
Their program is being broadcast in 40 countries. The songs they play have an Egyptian character. Normally, they are shot in Egypt in order to bring Egypt to the world. Their logo is in English, but written in the style of the Arabic naskh script.
The duo says that with audiences in Mongolia raising Egypt's flag and others in Argentina raising banners reading "We pray for Egypt", they like to think they have been successful in their goal. And that they become No. 20 in the world without any support from the Egyptian audiences means this type of music is not known to the Egyptian listeners.
Fila says Sharm el-Sheikh is far more beautiful than Ibiza, the city of electronic music, but it is not marketing itself well in this field.
In 2015, the duo were chosen No. 1 for the second by the TrancePodium site.
They say their dream will come true when they celebrate episode No. 400 in September at the pyramids.
Edited translation from Al-Masry Al-Youm