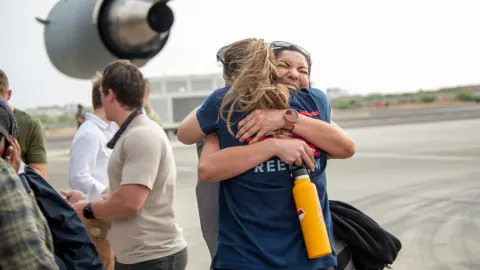 As the crisis in Sudan continues to unfold, there is mounting anger among Americans who feel abandoned by the US government and left to navigate the complicated and dangerous situation on their own.
"I am incredibly shocked and disgusted by the American lackluster response to the health and safety of their citizens," said Muna Daoud, whose parents were traveling to get out of Sudan via Port Sudan to Saudi Arabia.
Despite a number of nations evacuating their citizens, the US government has continued to say that the conditions are not conducive to a civilian evacuation. All US government personnel were evacuated in a military operation this weekend. US officials have said they are in "close communication" with US citizens and "actively facilitating" their departure from Sudan.
However, CNN spoke with multiple people whose family members are among the "dozens" of Americans who want to leave Sudan, and they said the State Department has provided "barely any assistance" since the deadly violence between the Sudanese Armed Forces (SAF) and Rapid Support Forces (RSF) broke out more than a week ago.
That fighting between the rival military groups has left hundreds dead, including two Americans, and thousands wounded, and has left the country at risk of humanitarian disaster, as those still trapped in their homes face shortages of food, water, medicine and electricity.
Those who spoke to CNN said they and their family members have had to make "life or death decisions" about when and how to leave the country with very little guidance.
'The State Department was useless'
"To be honest with you, the State Department was useless, utterly useless throughout this entire period," said Imad, who asked CNN to withhold his last name, and whose parents were traveling from Khartoum to Egypt.
"We expected the Department to provide some kind of guidance, but the guidance was the template, just shelter in place, no critical information being provided," he said.
Daoud said that "the only communication is to make their way somehow to Port Sudan and from there they will be assisted by the Saudis.
Those who spoke to CNN also pushed back on the argument made by US officials that they had warned Americans not to be in Sudan. The travel advisory level has been Level 4: Do Not Travel since June 2021, and the State Department has consistently advised Americans to "have evacuation plans that do not rely on US government assistance." However, there were no recent security alerts explicitly advising Americans to leave the country.
Maisoun Sulfab, who has several US citizen relatives in Sudan, said that they had a number of reasons to be there – her father's wife is not a US citizen and they had been working to get her an immigrant visa to come to the US. Her uncle was visiting for a funeral.
"I think this is just a talking point that they're using to just cover themselves," Imad said, noting that he had been in Sudan in December and it was "not a war zone whatsoever."
"We would not send our parents if we knew that at any second this was gonna break out into like an all out civil war," he said.
He also took issue with the argument made by the US government that most of the Americans in Sudan are dual citizens, and as such they may not want to leave.
"At the end of the day, a dual citizen is a citizen. They have the same constitutional rights as other citizens, and we shouldn't be creating a tiered system for citizenship," he said.
Daoud said that "it seems like American citizens in this situation just have to fend for themselves and hope for the best. Apparently we are just 'passport holders,' whose lives and well-being is not a priority for the US government."
"The might of our military and resources does not get used to save our lives in war zones," she said.
When CNN spoke to Daoud, her 69-year-old father and 66-year-old mother – both of whom are US citizens – were making the "harrowing" nine hour bus journey from Khartoum to Port Sudan.
"They had to find a bus this morning after waiting outside on the side of the road," she said. Daoud said that the bus had been stopped three times by RSF soldiers "and at one checkpoint they held my father at gunpoint because they believed he was in the Sudanese Army."
"They told all the men to step off the bus and searched and questioned them," but they kept her father at gunpoint, she described to CNN.
"My mum believed he was going to be taken or shot. Luckily they decided to let him go," Daoud said.
Once her parents reach Port Sudan, they do not know how long they will have to wait for a ferry to Jeddah, Saudi Arabia, where the State Department has said there are consular officials to assist Americans.
Other Americans are attempting to flee Sudan through Egypt, but those who spoke to CNN warned of a growing humanitarian catastrophe at that border.