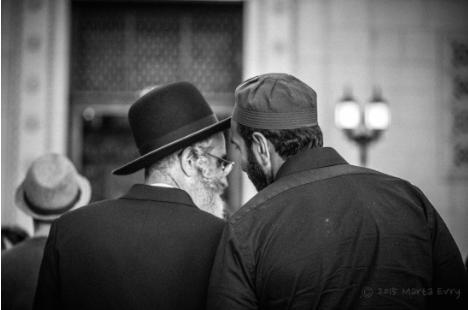 As turmoil spreads through the Middle East, American Jews and Muslims have been forming alliances to build trust and seek solidarity in more ambitious ways than in the past, a sharp contrast to the violence engulfing their homelands this week.
Muslims and Jews have dispatched members into mosques and synagogues to learn about each other's faiths, made a joint trip to tour civil rights sites in the South and formed partnerships involving CEOs of major corporations. Leaders of the groups said the challenging world events have provided impetus for the outreach efforts, including violence in Gaza, the Trump administration's moving of the U.S. embassy in Israel to Jerusalem, the travel ban from mostly Muslim countries and deepening concern about hate crimes.
"If there's ever a time to talk, it's now," said the executive director for the Los Angeles-based group NewGround, Aziza Hasan.
NewGround has provided leadership training programs for several hundred professionals from the two communities. One recent event was a backyard supper in Los Angeles at which guests discussed their religions' approach to death — what rituals are involved, how the grieving process unfolds. Participants were moved by similarities in the traditions of their two faiths.
"Some people were on the verge of tears as they dug into it," said Hasan.
Perhaps most high-powered of the outreach initiatives is the Muslim Jewish Advisory Council, which started out two years ago working to expand hate-crime legislation. Now, the council — an unprecedented interfaith team of business, political and religious leaders — is launching an initiative sending Jewish members into mosques and Muslims into synagogues to speak and listen in ways that break down walls between them.
Farooq Kathwari, the council co-chair and CEO of Ethan Allen Interiors, said the violence along Gaza's border with Israel — where dozens of Palestinians were killed by Israeli troops' gunfire on Monday — poses a test for the outreach project.
"We have to double our efforts to stay together," said Kathwari. "I hope and pray that this crisis does turn into an opportunity for peace."
Another ambitious national group is the Sisterhood of Salaam Shalom, which brings together Jewish and Muslim women interested in learning about one another. Founded in 2010, it now has more than 2,700 members in roughly 150 chapters spanning 27 states. Seeking new insights into combatting bigotry, several dozen of the women traveled to Georgia, Alabama and Tennessee in April, visiting sites commemorating the Civil Rights movement.
"We want to learn how to speak out against hate," said co-founder Sheryl Olitzky, who is Jewish.
The other co-founder, Atiya Aftab, is an attorney who teaches Islamic law at Rutgers University. She described the bloodshed in Gaza as heartbreaking, yet said it would motivate the group's efforts.
"As people of faith we pray that we continue to see God's love and humanity in each other," she said.
For those seeking to build bridges, there have been some inspiring examples. In Germany, more than 2,000 people — Jews and Muslims among them — donned Jewish skullcaps and took to the streets recently to protest an anti-Semitic attack in Berlin in which a Syrian asylum-seeker is a suspect. In the U.S., Muslim communities in Philadelphia and St. Louis raised funds last year to help restore vandalized Jewish cemeteries.
The Muslim Jewish Advisory Council hopes its new outreach efforts will benefit from goodwill generated by its support for federal legislation that would boost penalties for threats of violence against religious institutions. The measure passed the House in December by a vote of 402-2, and council officials expect it to pass the Senate by a similar margin.
The council hopes to expand its influence with a growing number of regional affiliates, including Los Angeles, Philadelphia, Dallas, Miami and, soon, Detroit. Stanley Bergman, the CEO of Henry Schein Inc. and the council's other co-chair along with Kathwari, said those groups can help defuse "prejudice on both sides" through events and conversations specific to local concerns.
The council took shape in 2016; Bergman believes a key factor was that numerous corporate executives overcame wariness about engaging in such an interfaith effort. Now, he said, "you're finding a lot more leaders of business talking about respect and choosing civil words."
The joint efforts come as many Muslims say President Donald Trump's words and policies, such as the travel ban, lead to increased threats and attacks. The Council on American-Islamic Relations said last month that "Trump's xenophobic rhetoric" has "provided a veneer of legitimacy to bigotry," and contributed to a 15 percent jump last year in reported anti-Muslim hate crimes and other acts of bias.
The advisory council's leaders avoid direct criticism of Trump, arguing that instances of bias crimes have been rising for a while and polarization precedes him.
"Our president has his way, which at times works, but a negative impact can be that it also divides people. What we have to do is … move forward, but also unite people," Kathwari said.
The Sisterhood of Salaam Shalom also approaches politically charged issues with caution.
Aware that some attempts at interfaith engagement have floundered over differences on Israeli-Palestinian politics, the Sisterhood's manual advises its chapters to avoid dialogue on that subject "until trust and respect has been established within the chapter members." Last week, with worsening tensions in the Mideast, the Sisterhood convened a special meeting last of its chapter leaders to provide training on how to address the conflict.
Both co-founders say the Sisterhood's mission has taken on extra urgency during Trump's presidency.
Since the election, Olitzky contends, there has been a "demonstrable increase in anti-Jewish and anti-Muslim acts of hate" that has served to bring the Jewish and Muslim communities together in new ways.
Muqtedar Khan, a professor of political science and international relations at the University of Delaware, believes social and political conditions are conducive to greater solidarity between the two faiths.
Politically, he expects both communities will play increasingly vital roles in the Democratic Party while viewing the Trump-led Republican Party as hostile to minorities. Socially, he sees the younger generation of American Jews and Muslims as more likely than their elders to be allies.
One example: IfNotNow, a group of youthful Jewish activists opposed to Israel's treatment of Palestinians, has been coordinating some of its protest activity with American Muslims for Palestine.
"They have common ground in seeking social justice in America," Khan said.
Photo caption: A rabbi and a sheikh are speaking, captured by Marta Evry.