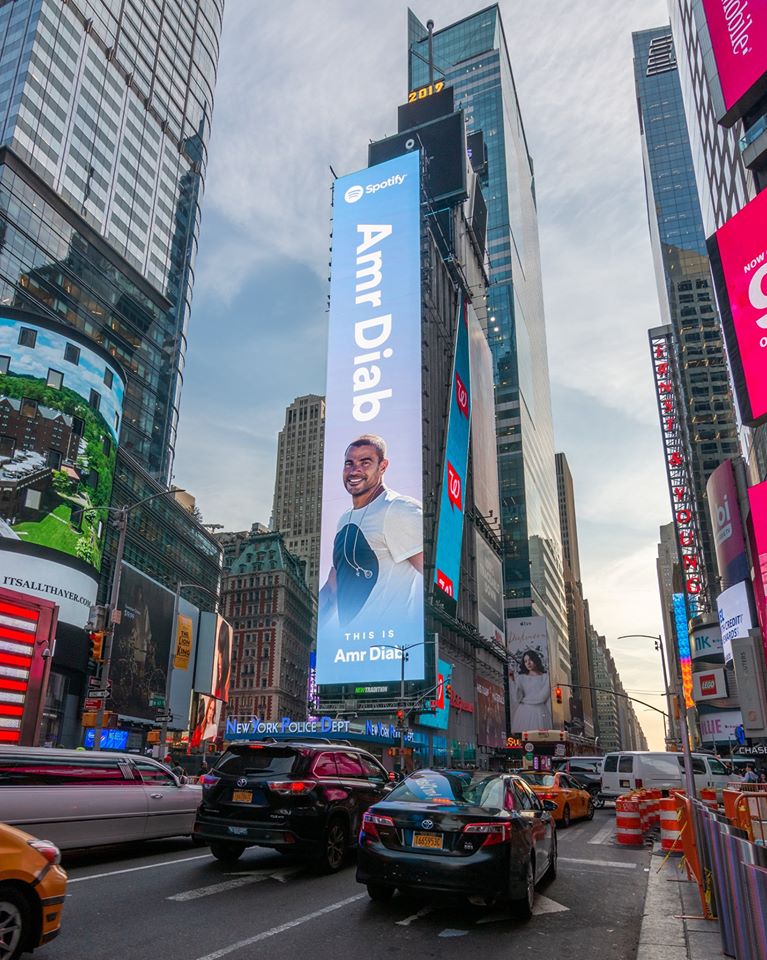 Billboards featuring Egyptian mega star Amr Diab have popped up in New York City's Times Square, celebrating his groundbreaking achievement in topping the most listed Arab singers on Spotify in the US and Europe, according to an official statement released by Spotify on Tuesday.
Diab is the first Arab singer to have his billboards displayed in the square.
This recognition comes as a part of Spotify's global cultural initiative, aiming to promote Arabic music outside the MENA region.
The statement added that Diab's hits have been spotted among numerous international and local playlists as well, and that his music is recognizable the world over.
"Music is a language that speaks emotions and not only words. I am blessed to have touched people around the world with my music," ​Diab​ said, applauding Spotify's role as a creative platform that notably enables artists to connect with fans beyond borders.
Spotify gives users around the globe free access to more than 50 million tracks from dozens of different music genres.
The Managing Director of Spotify Middle East and Africa, Claudius Boller said that Spotify's main aim is to establish a space where artists and the entire world can be introduced to each other.
"Experiencing Amr Diab's devotion to Arabic music for nearly four decades straight and witnessing his fanbase expand across the world is beyond incredible. Today we are celebrating Diab's legacy and we are proud to see him shine so brightly – literally – on the global stage," he added.
"The Dubai Stars," a new walk of fame located in Dubai, honored on October 21 four Egyptian megastars by placing their names in Dubai's new celebrity corridor in downtown, with Diab among them.
The Dubai stars paid tribute to Diab's revolutionary contributions to Middle Eastern music. Many Arab stars praised his genre-related innovations that have shaken up conventional ideas of music.
His name was counted among the first 400 prominent names which include that of music queen Beyoncé and globally distinguished TV host Oprah.
Since 1988, Diab's career has been crowned with numerous awards including the Platinum Record of four consecutive years, Middle East Radio, Abu Dhabi National Festival, World Music Awards, Guinness World Records, Joy Awards, Big Apple Music Awards and many more.
The iconic pop star launched his music career in 1983, introducing his first album "Ya Tareea" earning him noticeable recognition. Then he kept releasing several successful albums including  Hala" (1986), "Khalseen" (1987), "Mayyal" (1988), "Shawa'na" (1989) and "Matkhafesh" (1990) among others.
Moreover, he was selected to perform in various languages like Arabic, English and French as well at the the fifth Tournament of African Sports in 1990, where he made a groundbreaking performance.
Photo credit: Amr Diab's Facebook page