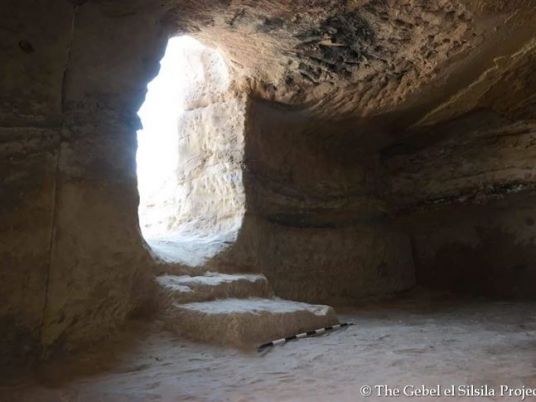 An ancient cemetery belonging to the 18th Pharaonic dynasty has been discovered by Swedish excavators in Aswan, the Ministry of Antiquities announced Wednesday.
Apart from the cemetery, a small stone chamber and some artifacts were discovered at Gebel al-Silsila. Mahmoud Afifi, head of the ministry's Egyptian antiquities department, informed reporters that the findings were made by an archaeological mission from Lund University.
Initial studies made at the cemetery revealed human skeletons dating from various periods, according to Afifi. This, he explained, indicates the existence of on-going human civilisation in the region. The cemetery comprised rock-carved tombs, some divided into multiple burial chambers, with no inscriptions on the walls.
Nasr Salama, head of the ministry's department for Aswan and Nubia antiquities, said the find was even more significant for the unprecedented discovery of stairs leading down to the tombs.
As for the stone chamber at Gebel al-Silsila, Salama described it as a stone compartment carved into the rock comprising two well-preserved inner rooms. Above its entrance is a "winged sun disc", he said.
Edited translation from Al-Masry Al-Youm