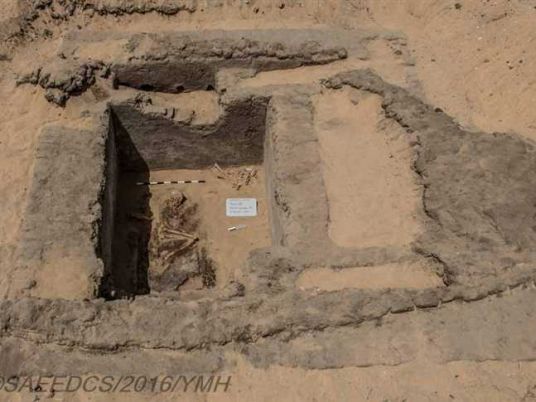 The head of the Egyptian Antiquities Sector, Mahmoud Afify, announced Wednesday the discovery of a cemetery and a residential city dating back to 5,316 BCE, the beginning of an important dynastic period.
The discovery was made during excavations conducted by an Egyptian archaeological mission belonging to the Ministry of Antiquities, 400 meters south of King Seti I Temple at Abydos city in Sohag governorate.
The cemetery and residential city most probably belonged to senior officials who were responsible for building the cemeteries of the royal family in Abydos city.
Remains of huts and daily life tools were found in the site, including the remains of pottery and stone tools, which indicates that the residential city supplied the labor force engaged in the construction of royal tombs with food and drink, according to Afify.
Afify stressed the importance of this discovery, saying it could lead to new information on the history of Abydos city and on ancient Egyptian history in general.
He praised the fact that the discovery had been made by an archaeological mission that belongs to the Antiquities Ministry, and not a foreign mission.
As for the head of the Central Administration of Upper Egypt Antiquities, Hany Aboul Azm, he commented that the mission has so far discovered 15 huge cemeteries made of mudbrick.
Aboul Azm said that the huge size of the tombs underlines the importance of their owners, their influence and social status during that early period of ancient Egyptian history.
The cemeteries are distinguished by many mastabas —
a type of ancient Egyptian tomb made of mudbrick, rectangular in plan with sloping sides and a flat roof —
up to four in some cemeteries, said Yasser Mahmoud Hussein, the head of the mission which made the discovery.
The oldest known mastabas were all located in Saqqara, before this discovery was made in Abydos, he pointed out.
Hussein explained that the mission comprises a group of young Egyptian archaeologists specialized in excavations, pottery, paintings and human bones.
Edited translation from Al-Masry Al-Youm