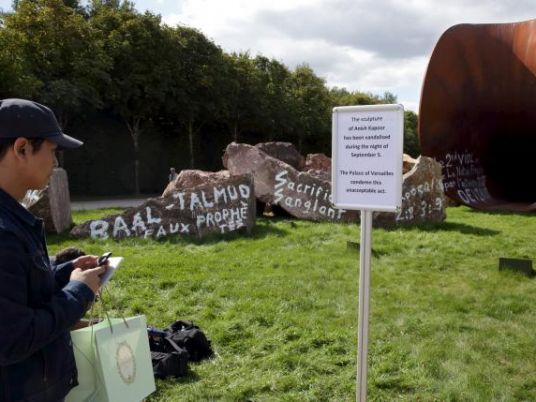 British-Indian sculptor Anish Kapoor has decided to leave the anti-Semitic graffiti on his "Dirty Corner" installation at the Palace of Versailles near Paris, but will cover it up, palace authorities said on Friday.
The 60-meter (197 feet) abstract steel and rock sculpture that the artist has described as "the vagina of the queen coming into power," was vandalized shortly after it was installed in June, and again this month.
"(The sculpture), which was recently vandalized, will be subject in the coming days to an intervention to hide the damage, under the artist's supervision," Palace of Versailles authorities said in a statement.
A palace spokeswoman said Kapoor, who was born in India to a Hindu father and a Jewish mother, decided to mask rather than remove the graffiti, without providing further details.
The artist initially decided to leave the work as it was, prompting a legal challenge by a lawyers' association and right-wing Versailles city councillor Fabien Bougle calling for the inscriptions to be removed despite Kapoor's opposition.
French Culture Minister Fleur Pellerin has condemned the vandalism as showing a "fascist vision of culture."
Last year, vandals attacked another controversial artwork, bringing down Paul McCarthy's giant green inflatable sculpture on the famous Place Vendome in Paris after its resemblance to a sex toy sparked an outcry.