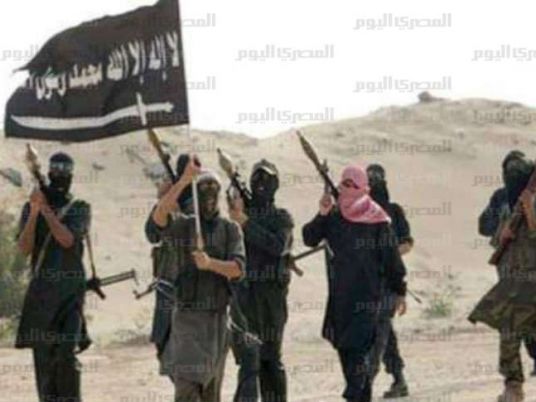 The terrorist Ansar Bayt al-Maqdis group posted a new video showing the murder of Egyptian army soldiers and scenes of the al-Farafra checkpoint attack.
The video included a speech by one of the group leaders called Ibrahim al-Rebeish who addressed the soldiers in the video saying, "Do you know how big your crime is? If you don't know, it's a disaster. If you know, it's a bigger disaster. Your leader, who took the side of the US without hesitation, would not have remained unless he found you taking up arms, securing his way, guarding his house and obeying his decisions without discussion."
"Who ordered you, soldier, to go to work? Who ordered you to wear this uniform and taking part in campaigns to harm worshippers of God?" he added.
He also wondered about those who refuse the killing of soldiers by the jihadists.
"Don't those who kill jihadists have fathers and mothers who feel sorry for their loss like the parents of the soldiers?" Rebeish said. "Soldiers kill jihadists without being blamed, but if jihadists kill soldiers, they get blamed."
"The prisons became full of jihadists, preachers and students. Who attacked their houses, intimidated their houses and took them handicapped without crime but Jihad? Who kills protesters and puts people in prison? It's you, soldier. We're then blamed for killing you because you pray and fast? What benefit is praying or fasting after the crimes you committed?"
Ansar Bayt al-Maqdis claimed responsibility for most of the bloody attacks on police and army personnel over the past year including an assassination attempt on the Interior Minister and the bombing of the Daqahlia security directorate in 2013.
Edited translation from Al-Masry Al-Youm