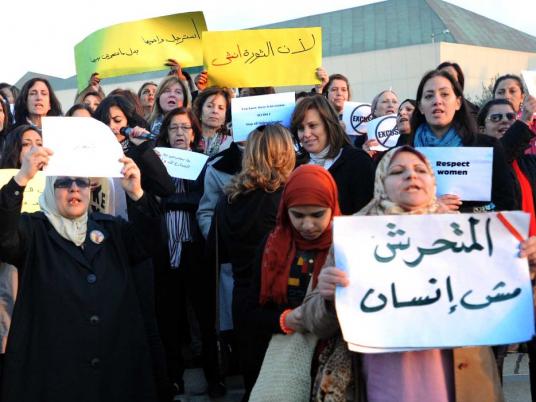 Two cases of mass harassment occurred during the Eid al-Adha holiday, according to a Thursday report by an anti-harassment group.
In the first of the two incidents of mass harassment, 20 men attacked seven girls. In the second case, 20 harassed two girls.
The initiative, called " I saw harassment," said its activists intervened in 23 cases of harassment in downtown Cairo.
It also called for setting age restrictions for movies without changing their content.
The initiative said that more people were seen on the streets on the second day of Eid, with a consequent rise in the number of harassment incidents being reported, particularly in crowded places such as movie theaters.
The initiative said its activists started their field work at 12 noon and finished at 10 pm each day. Their work includes intervention, rescue and awareness-raising in downtown Cairo.
The initiative said females were more responsive to the field campaign, with more than 93 percent of females responding positively to the campaign compared to less than 30 percent of males.
The most notable incidents of harassment were of a girl in her 20s who was physically harassed while in the company of her parents, another of a famous singer, and a third harassed by four drunk men. The field team successfully intervened in all three cases.
The initiative's operations room blamed cinemas for the harassment incidents saying they intentionally cause overcrowding at the box office to create the impression that there is a large audience. They also create such long lines to sell tickets on the black market for higher prices.
It also blamed cinemas for causing overcrowding in the streets by distributing movie brochures and carrying out other promotional activities on the streets.
Edited translation from Al-Masry Al-Youm