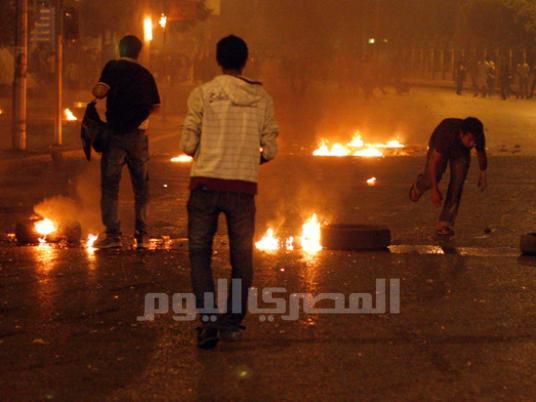 Abdallah Seleem doesn't watch the news anymore. It's disheartening to see how far Egypt has slid from its initial optimism after Hosni Mubarak stepped down last year, he says — it causes him too much stress about the future.
"You're too frustrated to talk about it," says Seleem, 25, who is interested in management but unemployed. "It's like despair, it's like you've lost faith in people. You've lost faith in the process."
Seleem used to talk politics with friends, but now sees it as a waste of time and energy. He prefers to focus on how he can move and find a job outside Egypt.
"My goal is to leave here," he says, "because it's driving me insane."
Continued exposure to violence, upsetting news, and worsening economic conditions have left many Egyptians feeling stressed, and mental health professionals say the psychological effects of the last 20 months have remained widely unaddressed.
Egyptians now feel less safe due to rising crime rates, as well as confused and anxious about the future because of the prevailing political instability and deteriorating economic situation in the country, students at the American University in Cairo found during a needs assessment they carried out this spring in partnership with the Ministry of Health's General Secretariat of Mental Health.
Witnessing violence — either firsthand or through news reports — has proven traumatic for many people, leaving them insecure, according to the student researchers.
Mental health issues in Egypt have long been stigmatized, a challenge for practitioners who have observed an upward trend in anxiety, insecurity, and stress among patients and the general population since the revolution began last year.
The study, which consisted of a literature review, a survey distributed on busy Cairo and Giza thoroughfares, and focus groups in low-income areas of the capital, aimed to determine whether a special government program specifically targeted at those feeling the psychological effects of the revolution was necessary, and if so, how it could best reach those who needed treatment the most.
The program, named Nawafez, Arabic for "windows," endeavors to channel mental health resources toward Egyptians across the socioeconomic sphere who have experienced negative psychological effects tied to the revolution and ensuing volatility.
Nawafez offers free counseling at Abbasseya Mental Health Hospital by a team comprised of a social worker, a psychologist, and a psychiatrist trained in treating violence-related psychological issues.
"[We] are helping all people who ask for help and who are victims of violence either in a direct or indirect way, [and] we shall be addressing the more vulnerable groups," Basma Abdelaziz, who led the media and awareness office in the General Secretariat of Mental Health when students carried out the needs assessment this spring, told Egypt Independent. "People in poor areas, people who do not have an access to psychological help, and also those do not know that they do have a problem," she wrote in an email interview.
A lack of awareness about mental health issues and symptoms associated with them has created a barrier to mental health services, said mental health professionals, who have found themselves coming up with creative ways to reel people in.
They have set up hotlines, and a radio show about violence aims to connect listeners in need with mental healthcare services.
Any changes must overcome the strong stigmatization of mental health issues in Egypt, particularly the perception of Abbasseya Hospital as a "loony bin" where only the most severely disturbed patients seek care, an image cultivated in the media.
"That's unfortunate, because you would want people to think of these hospitals as a place of safety and healing," says Mona Amer, an assistant professor of psychology at the American University in Cairo, who supervised the needs assessment with Abdelaziz.
Lack of faith in the Ministry of Health has further turned people off, Amer adds.
"These are intimate services, to ask for help for these types of personal problems," she says, "particularly when we are coming out of a revolution where people felt little trust in the government."
Mental health professionals generally employ an outpatient model, where patients are expected to come to them, according to Amer. Clinics, which take on a form similar to practices in the West, often cater to the upper class, she says.
People from lower income brackets must rely on state services at public hospitals or clinics, but, Amer explains, generally only come forward when their psychological problems have reached a severe state.
This confluence of factors hits members of the middle class the worst, she adds; they cannot afford private clinics but avoid public services due to the stigma attached to them.
Nongovernmental organizations that do work with lower- and middle-class populations typically do not focus on mental health, Amer says. "The mental-health experts don't often go into the streets, and the people who do go into the streets don't often have any mental health expertise."
With a hesitancy to partake in institutional services, Egyptians often turn to more traditional means.
Religion and family support have helped many people cope with increased stress and anxiety since the revolution, the AUC researchers found.
Stress and anxiety can negatively affect people's work and study ethics, cause depression and make people moody, as well as worsen existing ailments and create new health problems, psychological and otherwise.
Interpersonal relationships often suffer, too. A woman in one of the researchers' focus groups said a rise in crime in her neighborhood made it hard for her neighbors to sleep well and continue life as normal, whereas before the revolution, neighbors would leave their doors open, according to Tiya Abdel Malek, who graduated in June from AUC and helped lead the focus groups this spring.
"The woman explained, 'All of a sudden you wouldn't trust your own neighbor anymore,'" Abdel Malek says.
Nearly 60 percent of survey respondents gave answers which suggested a diagnosis of post-traumatic stress disorder would likely be appropriate.
In addition, researchers reported "no significant differences in trauma levels or coping styles between those who were active protesters and those who were not."
Meanwhile, the Psychological Health Awareness Society in Egypt (PHASE), a nonprofit founded in 2006, recently rolled out a media campaign to raise awareness of the social and psychological phenomena of violence. PHASE has hosted radio shows about the definition of violence, violence against children, and sexual harassment, and plans to hold a public event and conference later this fall.
PHASE cofounder and psychiatrist Heba Habib says the revolution had given her organization a new urgency.
From the Maspero clashes to the battles on Mohamed Mahmoud Street, violence and news of it have led to an increase in sleeping disorders, depression and anxiety among the general population, Habib says.
Egyptians who did not have preexisting stress or anxiety are not the only ones now suffering, according to Radwa Said Abdelazim, a psychiatrist and creative arts therapist at Cairo University Hospital.
Patients who already had severe mental disorders at the time of the revolution experienced the ups and downs of the ensuing transitional period, too, ultimately seeing their conditions worsen, Abdelazim explains. "It was very, very interesting how those people were able to sense there was initial hope, but soon there was deterioration."
Patients with depression, personality disorders, and anxiety disorders worsened significantly and have experienced more frequent panic attacks, she says.
Despite the increased need, services have a long way to go to catch up, mental health professionals said.
Almost none of the participants in the needs assessment for Nawafez were familiar with the program's services, and few could identify other local mental healthcare resources, according to researchers.
The researchers recommended that Nawafez workers visit lower-income communities to learn more about how to best reach them. In many cases, this might mean more effectively providing Egyptians with the most basic information about the symptoms of stress and other mental health issues.
Reducing the stigmatization of mental health by providing accurate information about mental-health problems and Abbasseya Hospital is one of Nawafez's priorities. The results of the needs assessment showed that many people recognized the need for psychological services for those suffering from stress and trauma, but much fewer showed interest in turning to Nawafez for help themselves or indicated that they needed psychological help at all.
"Most people I know are just like, 'There's nothing I can do right now, so we'll live our lives like normal, and hope everything gets better,'" Abdel Malek says.