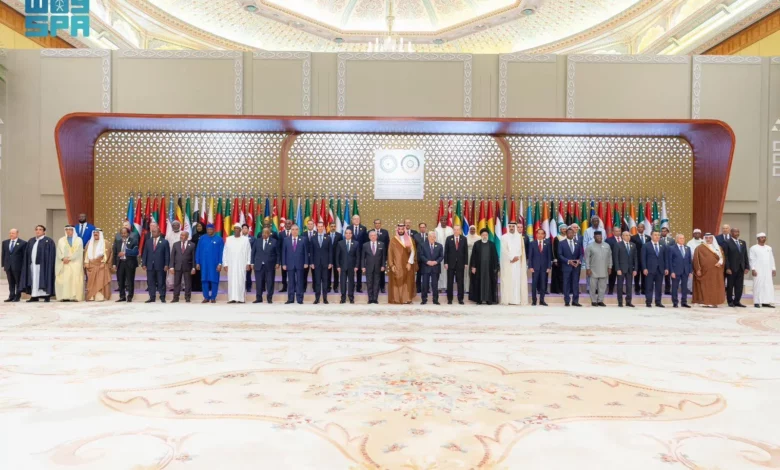 The final statement of the Joint Arab-Islamic Extraordinary Summit in Saudi Arabia announced that the assembled countries decided to break the siege on Gaza and imposed the immediate entry of convoys of aid, food, medicine, and fuel into the Strip.
The statement called on international organizations to participate in this process, and touched on the importance of ensuring their safe entry and supporting the United Nations Relief and Works Agency for Palestine Refugees (UNRWA).
It also decided to support Egypt in taking steps to confront the consequences of the brutal aggression on Gaza, and to support its efforts to bring aid into the Strip in an immediate and sustainable manner.
Call for peace
The summit further called on the Security Council to take a decisive and binding decision to impose a ceasefire and overrule colonial occupation authority that violates international humanitarian law and legitimacy resolutions, the most recent of these being the United Nations General Assembly Resolution #10/25-AES dated 10/26/2023.
It considered failure to do so to be a clear display of complicity that allows Israel to continue its brutal aggression that kills innocent people and bring Gaza to ruin.
The statement called on all countries to stop exporting weapons and ammunition to the occupation authorities, which are used by their army and settlers to kill the Palestinian people and destroy their homes, hospitals, schools, mosques, churches.
The statement called on Security Council to take an immediate decision condemning Israel's brutal destruction of hospitals in the Gaza Strip, preventing the entry of medicine, food and fuel.
It also called for the council to decry the act of occupation authorities cutting off electricity, water supply and basic services there, including communication and internet services as collective punishment, which constitutes as a war crime according to international law.
The decision must impose on Israel, as the occupying power, to abide by international laws and immediately abolish these inhumane measures, and push to lift the blockade that Israel has imposed on the Gaza Strip for years, the statement said.
It further called on the Prosecutor of the International Criminal Court to complete the investigation into war crimes committed by Israel against the Palestinian people in all occupied Palestinian territories, including East Jerusalem.
The Arab and Islamic summit assigned the foreign ministers of Saudi Arabia, Jordan, Egypt, Qatar, Turkey, Indonesia, Nigeria and Palestine to initiate immediate international action to stop the war on Gaza.