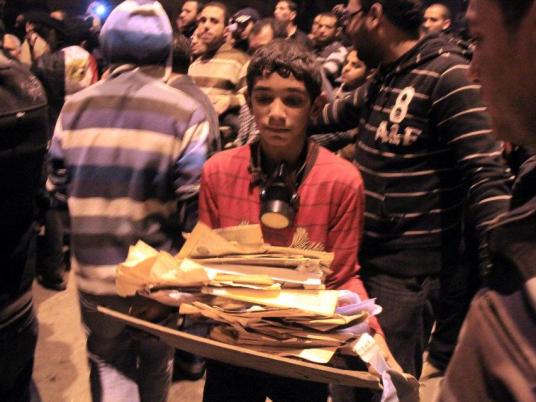 Since the latest round of violence in downtown Cairo began on Friday morning, claims have emerged from both human rights activists and the ruling military council that street children are being paid to incite violence. Those making the claims, however, have not provided evidence as to who might be paying them, and skeptics question the motives of those making the claims.
At its press conference on 19 November, the Supreme Council of the Armed Forces (SCAF) showed a video of minors confessing to being enticed with food and money to participate in the fighting now concentrated on the fringes of Tahrir Square and Qasr al-Ainy Street.
But a source at an international organization that works for the protection of children, who preferred not be named because she was not authorized to speak with the press, said she was skeptical of the legitimacy of the confessions. "I don't trust the SCAF, so how can I be sure these confessions were not forced?"
Lawyer Malek Adly told Egypt Independent that of the 23 children arrested during recent clashes, and with whom he has been dealing, none have mentioned anything about being paid to participate in the protests.
"Maybe some children have been paid, but this is not something I have heard from the children," said Adly, who works for the Hisham Mubarak Law Center.
He added that 21 of the children have been returned to their families, and two — both 11 years old — have been given over to the children's prosecution for further investigation over charges of attacks against the military.
The children on the front lines say they have their own reasons for entering the fray.
"I'm participating, so that when I grow up I don't feel oppressed," Mostafa al-Sayed, a 12-year-old, told Egypt Independent just after he threw a stone over the wall built by the army on Qasr al-Ainy Street.
Sayed said that he has been on the streets supporting the protesters from the start. He denied having been paid to be there or having heard of other children being paid to throw stones at the military. "They are just saying that because they're afraid we're going to finish them off," he said, seeming annoyed by the question.
"There are many children who have been arrested for participating, and I want to join them," he added. Our discussion was disrupted by stones being thrown back by police forces over the wall at protesters, many of whom were children.
Sabotage?
The Egyptian Association for the Assistance of Juveniles and Human Rights has also said it believes some children are being paid to incite violence and cause chaos.
"There are some children who are there to genuinely support the revolutionaries, but there are others who are there just to cause trouble," Mahmoud al-Badawy, the association's head, told Egypt Independent.
Badawy does not have any confessions from street children himself, and bases his view on what he saw broadcast on state-owned television channel, Al-Oula, in which a group of children caught by the police and army say they had received between LE50-LE100 per day to throw stones.
He believes the practice of paying children to participate in clashes is not new.
During the attack on the Israeli Embassy in September, he heard on state radio that a group of youths were rounded up and their leader said he was paid LE10,000 to get the children to participate.
"On the same day, a group of children started taking down the sign of the Ministry of Interior, while revolutionaries were in Tahrir Square," Badawy said, as a way of highlighting the fact that these children were acting with other motives.
These same children, he said, went to the Saudi Embassy and set embassy-owned cars on fire, and then went to storm the Israeli Embassy.
He does not have information on who might be paying the children, but believes there are about 15 million people associated with the former regime's National Democratic Party that have an interest in thwarting the revolution. "By chaos, you create a sense of longing for the Mubarak days," he said.
Badawy is also critical of the National Council for Childhood and Motherhood (NCCM), a state-body that says it works for the protection and development of children and mothers.
"Why have they been so silent on this issue," he asked. "We have sent a request to the SCAF asking where the millions of external funds received by the NCCM go and what is happening with their street children program. But, we haven't received a response."
But Samah Hussein, of the Egyptian Association for Societal Consolidation, is skeptical of Badawy's claims. "These are children who, from 25 January, found that people in Tahrir Square were kind to them, so they returned."
"They throw stones because they also want to achieve their rights. Some are also participating because they don't know any better and are on the streets anyway. Others are there because they hear it's the right thing to do. But it's not for money," Hussein said.