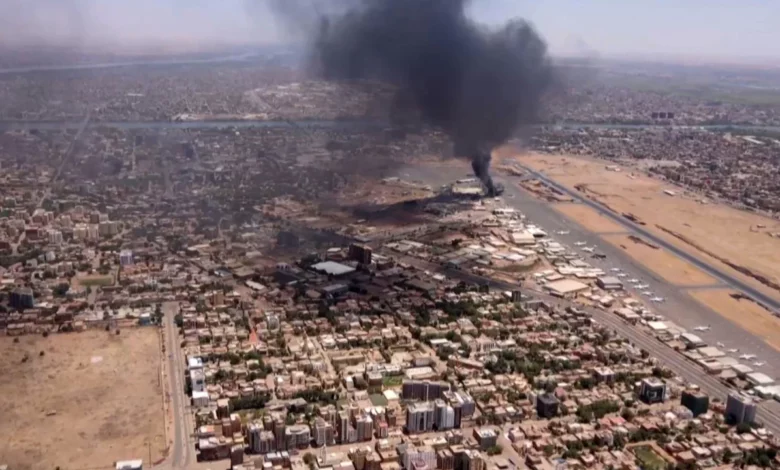 CNN
 —  As the
war in Sudan
nears four months of intense fighting, morgues in the capital Khartoum have reached their capacity, aid workers say, leaving thousands of corpses to rot on the streets as doctors and relief organizations warn of a looming cholera outbreak.
Khartoum's morgues have reached "breaking point," international aid group Save The Children said Tuesday.
Bodies in the morgues are also decomposing as prolonged power outages have left them without refrigeration, the group said. There is also no medical staff left, leaving the corpses "exposed and untreated."
The disaster is the latest hazard after months of clashes between the Sudanese Armed Forces (SAF) and the paramilitary Rapid Support Forces (RSF), which broke out in mid-April as both parties tried to take control of the capital.
The violence has killed at least 1,105 people and injured 12,115 as of July 11, the UN's Office for the Coordination of Humanitarian Affairs (OCHA) reported last month, citing data from the Federal Ministry of Health. It said the actual numbers are likely much higher.
At least 435 children have been killed and at least 2,025 others injured, said UNICEF. On average, a child is killed or injured every hour, the UN body calculates .
"A horrifying combination of rising numbers of corpses, severe water shortages, non-functioning hygiene and sanitation services, and lack of water treatment options are also prompting fears of a cholera outbreak in the city," Save The Children said in a statement.
The disease often surges in war zones, spreading rapidly through contaminated water. Sudan typically witnesses a rise in cholera cases during its annual rain season, which began in June, the aid group said, but the current absence of functioning public health labs makes it "difficult to assess the state of the crisis."
Cholera can kill within hours if left untreated. Most of the hospitals in the capital and other states are out of service, Save the Children added.
Sudanese medical workers are sounding the alarm over looming outbreaks.
Abdallah Attiya, a member of the Sudanese Doctors Syndicate, warned in an interview with Al Arabiya news channel last week of "disease and epidemiological disasters" amid the overcrowding of morgues.
"The inability to give those who have died a dignified burial is yet another element of the suffering of families in Khartoum," said Dr. Bashir Kamal Eldin Hamid, Save the Children's Health and Nutrition Director, in a Tuesday statement.
"We are seeing a health crisis in the making, on top of a crisis of sorrow, fear and pain," he said.
Escalating fighting
The conflict escalated again this week, with both rival forces claiming to have inflicted heavy damage on the other. No decisive breakthroughs or peace talks are in sight.
Residents of Omdurman, north of Khartoum, told CNN that fighting had intensified on Tuesday, saying they heard heavy artillery and bombardment overnight.
"The Sudanese army started by bombarding RSF stations scattered across different neighborhoods, to which the RSF responded by striking civilian homes and areas with anti-aircraft missiles," Mossab, an Omdurman resident, told CNN, providing only his first name due to safety concerns.
The fighting has left Khartoum in ruins. More than 4 million people have fled the violence across Sudan since the fighting broke out, with more than half having fled the capital alone, according to the International Organization for Migration.
Around 20.3 million people across the country – more than 42% of its population – have also been driven to high levels of acute food insecurity, according to the Integrated Food Security Classification (IPC).
The clashes are seen as a power struggle between Sudan's military ruler, the SAF head, Abdel Fattah al-Burhan and General Mohamed Hamdan Dagalo (widely known as Hemedti), the country's deputy and head of the RSF.
The two men were once allies who worked together to topple Sudanese President Omar al-Bashir in 2019 and played a pivotal role in the military coup in 2021. But their relationship soured amid negotiations to integrate the RSF into the country's military as part of plans to restore civilian rule.
The RSF said in a statement Tuesday that it had "achieved a new victory in a number of areas in Omdurman," claiming it killed more than 170 SAF soldiers and imprisoned 83.
The SAF said it had lost four of its fighters and claimed to have inflicted "heavy losses" on the RSF, killing and wounding hundreds of their fighters. Efforts by the United States and Saudi Arabia to achieve peace have been mostly frozen. Last month, the RSF said that achieving peace with its rival SAF is "impossible" after talks in Jeddah collapsed.
CNN's Mostafa Salem and Nadeen Ebrahim contributed to this report.