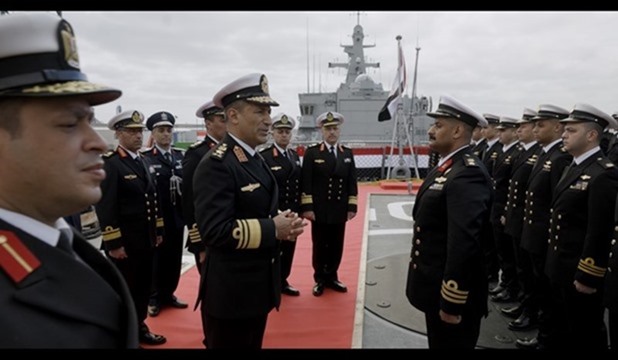 The Armed Forces received on Monday the second MEKO A-200 frigate, which is built by German shipbuilder ThyssenKrupp Marine Systems (TKMS).
The vessel is the second out of four (MEKO-A200) frigates, which Egypt has contracted to buy from Germany.
Commander of the Egyptian Navy Ashraf Atwa hoisted the Egyptian flag on the MEKO A-200 frigate, named "Al-Qahhar" during a ceremony held in the German port city of Bremerhaven to celebrate the handover of the frigate to Egypt, in the presence of a number of Egyptian and German naval commanders, along with the Egyptian ambassador to Germany and the military attaché.
Delivering a speech on this occasion, the commander of the Egyptian Navy conveyed the greetings of Supreme Commander of the Armed Forces and President Abdel Fattah al-Sisi and Commander-in-Chief of the Armed Forces and Minister of Defense Mohamed Zaki to the German Naval Forces and TKMS.
Atwa also expressed his appreciation for the fruitful cooperation between the Egyptian and German navies, which falls within the framework of the upgrading plan adopted by the Egyptian naval fleet to enhance security and stability in the areas of work of the Egyptian naval forces.
The MEKO A-200 frigate has a length of 121 meters (397 feet) and a 16.3-meter (53-foot) beam. It is powered by two diesel engines and three turbines, has a displacement of 3,700 tons, and a maximum speed of 28 knots (525 kilometers/333 miles per hour).