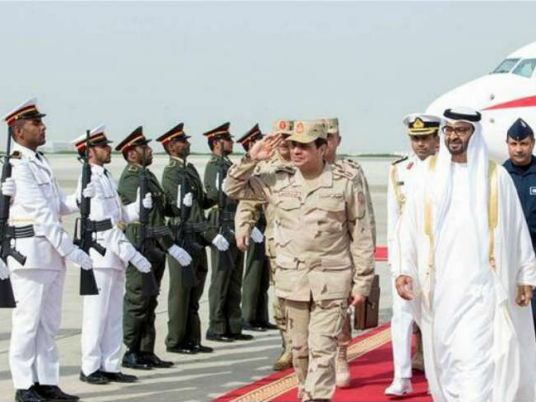 Army spokesperson Ahmed Mohamed Ali said Wednesday that the Tuesday visit by Defense Minister Abdel Fattah al-Sisi to the United Arab Emirates was of "purely military nature."
Sisi headed to the Emirates in a 24-hour visit where he attended joint military exercises that had started more than a week ago and met the kingdom's top officials.
The UAE had been a major financial and political supporter for the army-backed interim authorities that ousted Mohamed Morsy from presidency last year.
Sisi's visit comes hours after agreeing with the giant Emirati real estate developer Arabtec to build one million housing units for low-income youths in Egypt.
In statements published Wednesday by the pan-Arab Asharq al-Awsat, army spokesperson Ahmed Mohamed Ali said "the UAE had taken several positive stances on Egypt that go beyond economic housing," praising UAE and Saudi Arabia's political and economic positions on Egypt since 3 July 2013, when Morsy was overthrown.
He said the visit seeks to shift cooperation with the Emirates to military collaboration and the exchange of expertise in that respect.
Edited translation from Al-Masry Al-Youm