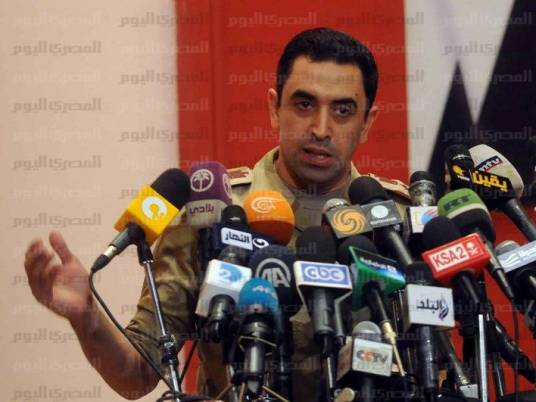 The Egyptian army has warned protesters against approaching military sites or facilities, as protesters continue their campaign to reinstate Mohamed Morsy as president.
Army spokesperson Ahmed Mohamed Ali said on his official Facebook page on Monday that those approaching army sites would endanger themselves, according to law.
Ali clarified his statement, claiming it was not a threat but was made out of care for citizens' safety.
The Monday statement also said the armed forces had learned that a pro-Morsy march planned to convene outside the military intelligence building, although it did not name the organizers of the march.
The right to peaceful protest is enshrined in Egyptian law, Ali added, but any breach could endanger the lives of protesters.
Tensions between the army and Islamists have been on the rise since the armed forces removed the Muslim Brotherhood's Mohamed Morsy from office earlier this month.
Morsy loyalists have demonstrated to demand his reinstatement.
Protests have occasionally erupted into bloody violence, with 51 Morsy supporters gunned down outside Republican Guard headquarters.
While protesters accused the army of shooting at the peaceful sit-in, the army said it fired at terrorist elements attempting to break into the building.