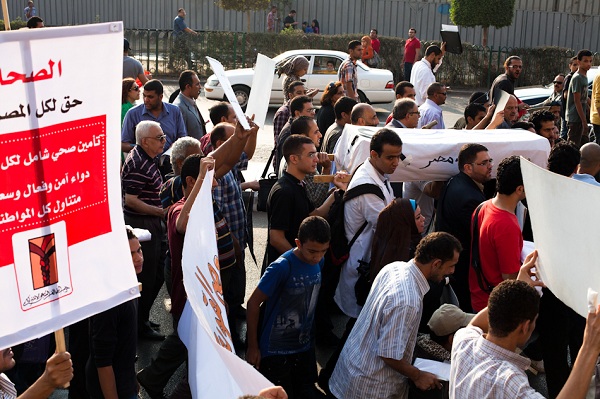 Prosecution services in Alexandria issued on Sunday arrest warrants for five workers at the Alexandria University Hospital accused of instigating a strike among colleagues since Wednesday that allegedly lead to the death of two patients.
Prime Minister Ibrahim Mehleb directed Saturday to refer the striking nursing crew to prosecutors.
A worker at the hospital, who asked not to be named, said his colleagues had begun a open-ended strike to demand the setting of a minimum wage and to press the Finance Ministry to disburse a 30 percent allowance it had unjustifiably abstained from giving out.
Some workers are enraged by the prosecutors' summons as it was issued before investigations and medical examinations of the two deceased patients had been concluded, another worker added, arguing that it is not yet determined if the deaths were the result of neglect by the striking staff.
The Center for Trade Union and Workers' Services voiced solidarity with the workers' demands, demanding to halt interrogations made with the medical staff until investigations into the deaths are completed.
Since the 2011 uprising, Egypt has seen occasional wide-scale strikes by doctors demanding better pay and enhanced working environment. In 2013, the government approved a raise to doctors payment, moving fresh graduates' monthly salary to LE2,000, up from LE700.
Edited translation from Al-Masry Al-Youm