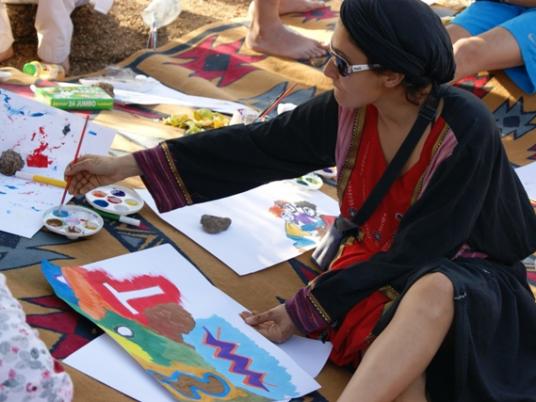 Many patients suffering from psychological illnesses are given medication to cope. But another form of treatment, art therapy, could offer another route.
Art therapy integrates psychotherapeutic techniques with creativity to improve the physical, mental and emotional well-beings of individuals of all ages. It can give people the chance to explore and capture their unconscious through colors and drawings, which often better reveal inner anxieties than expressing them orally.
"Art therapy is a way to penetrate the human soul by creating a bridge that connects the person's conscious and unconscious layers of thinking," says art therapist Shima Youssef. "We give the patient a piece of paper and palette of colors, and ask him to paint whatever he wants and express himself freely."
Youssef and another art therapist, Suzan Radwan, studied the practice with Magdy Refaat, one of the pioneers in the field in Egypt. The two women opened art studios in Aswan and Sinai, and the Cairo neighborhoods of Maadi and Zamalek. They also hold workshops, particularly for charities that work with abused women and children, and they now hope to open an art studio, "Miraya," to create Egypt's first art therapy center.
Art therapy can be used for a wide range of psychological disorders that take a long time to be diagnosed or treated in traditional ways. It can also help patients overcome feelings of anxiety, depression, fear and isolation, and can help patients suffering from schizophrenia, trauma, psychosis, hyperactivity, Alzheimer's and other complicated diseases.
It also can benefit victims of violence, war and rape, as well as drug addicts, the disabled and the blind, because these patients tend to have problems expressing themselves through words, thinking that other people will never understand their conditions, therapists say. For example, an art therapist might be able to guess whether a drug addict will relapse in the near future, even if this person has not reached this level of consciousness, through the person's drawings.
Youssef says that after a patient finishes drawing, she sits with him or her to try to decrypt the codes and symbols. Then she discusses them with the patient.
"Most of the time, the patients draw shapes and patterns that they don't understand, so it is up to the therapist to extract the drawing's language to help the person understand his unconscious better," she says.
Art therapy can also be very effective with children, because it can be used to confront parents if their drawings reflect the anxieties of their parents. Many parents complain that their children are aggressive or don't listen to them, and art therapy can be used to help parents learn the best ways for dealing with their children.
Art therapists also say the practice can help solve marital problems. A husband and wife are given separate sheets of paper to draw on, before being asked to draw together on one sheet. Therapists can analyze the pictures and recognize who is dominant in the relationship and who is prone to aggressiveness, and then help determine the problems they face as a couple and present solutions.
Radwan, who is also a psychiatrist, says art therapy can help patients in ways that traditional methods can't.
"The main problem is that the previous generation of psychiatrists and psychologists used to rely heavily on medicines and chemicals for treating complicated psychological disorders, which made people hate going to the psychiatrist clinics," she says. "After working in some clinics that use traditional treatments and in art therapy studios, I can honestly say that art therapy achieves better and quicker results than using medication."
Youssef and Radwan say psychotherapy is a necessity that needs to be given attention. That's why they organize free artistic sessions.
"We want to help people who have been taking medicines for a long time, and others, because art therapy works successfully with people of all ages," Youssef says, though she says younger people ages 15 to 30 are usually more experimental and open to trying it.
Betty Khoury, a 30-year-old biologist, says she recently experienced some hardships and was afraid of falling into depression. Her friends advised her to try art therapy.
"When Shima started to analyze my drawings, I was surprised that she could know so many small details about my life that I hadn't told her," Khoury says.
She says the therapy helps her overcome her worries and pressures, so she considers it a way to stay healthy.
"I think people shouldn't wait until the daily pressures accumulate and the failure complicates their lives and makes them impossible," she says. "They have to search for a way to give an outlet to their emotions and vent their feelings to protect their health."
Art therapy developed simultaneously in the UK and the US. Margaret Naumburg, who is considered its founder in both countries, was an educator and psychotherapist who started the Walden School in New York City.
Naumburg wrote several books on art therapy and its applications with psychiatric patients in the 1940s and 1950s. Her sister, Florence Cane, modified principles from art education for use with children.
At the same time, artists — including some who were conscientious objectors during World War II — volunteered in mental hospitals. They eventually convinced psychiatrists of the contributions art therapy could make in the treatment of the most difficult patients, and the first journal in the field was published in 1961. The American Art Therapy Association was founded in 1969.
While art therapy is still a novel concept and an innovative treatment in the Middle East, it now plays a vital role in the US and Europe, and is used in public and private psychiatric hospitals, prisons, family welfare agencies, nursing homes, rehabilitation centers, drug and alcohol units, and women's and community health centers.
This piece was originally published in Egypt Independent's weekly
print edition
.