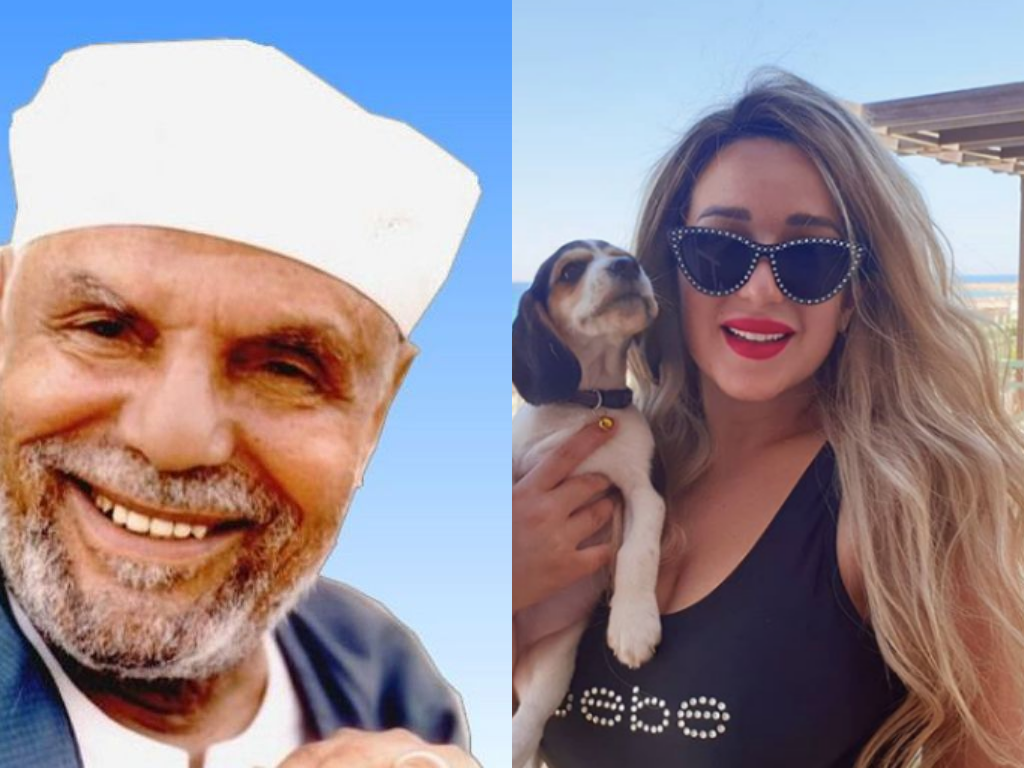 Beauty expert and TV presenter Asmaa Sherif Mounir officially apologized for her criticism of late prominent Sheikh Mohamed Metwaly El-Shaarawy on her Facebook account following extremely angry responses to the mentioned criticism.
"I made disrespectful comments about Sheikh Shaarawy during a conversation that took place between me and a social media user on my Facebook account. I will give more consideration to my words so that I do not make mistakes or speak wrongly. I don't judge Sheikh Shaarawy," Asmaa wrote on her Facebook account.
"I am very, very sorry; I did not express myself well or choose the right words. This could be because I am still learning and I still deal with things normally like the first day I decided to appear on social media," she added, saying that she will be more cautious because she has realized that each word she says counts.
She further clarified that she had been looking for a religious source and lessons to understand several topics in a simple way so that she can absorb them smoothly, adding that Sheikh Shaarawy is much more profound than she is and that she did not understand some of his speeches.
Asmaa declared that she is still a beginner and trying to get closer to God, insisting that she fully respects Sheikh Shaarawy and appreciates all the efforts he has devoted to promote Islam's values.
"God knows my intentions," she finally commented in her apology press release.
The controversial story started when Asmaa posted on her Facebook account saying that she lately has lost trust in most men of religion because many of them mix religion and politics or promote extremist thoughts. She then asked in the same post for recommendations for speeches by regular Muslim preachers.
A social media user replied to her in a comment recommending the videos of the late Sheikh Shaarawy. She replied saying that she used to watch him with her late grandfather and did not understand everything he said at the time. She claimed that when she got older she was startled by the extremist thoughts in his speeches.
Since then, dozens of attackers including social media users and public figures harshly condemned Asmaa's comment, opening fire on her and her father, the famed actor Sherif Mounir.
"I want to die because of my regret for my reply," Asmaa said in tears during her phone interview with TV presenter Amr Adib on his program "Al Hekaya" (The Story), vowing that she will never use the word "extreme" again.
During the phone interview, Asmaa was overwhelmed by the furious attacks on her and her father. Immediately after she wrote the comment on her Facebook account, she affirmed that she is against bullying, body shaming and any abuse, commenting, "If Sheikh Shaarawy was alive, he would forgive me."
In response, Sheikh Shaarawy's grandson said that Asmaa's apology is accepted, but he questioned why she used words such as "extreme" despite that his grandfather was an icon for forgiveness, according to his statements on Al-Hadath Chanel during his interview on "Hadret El Mowaten" (The Citizen) program on Saturday, November 2.
The Islamic preacher Habib Ali al-Jafri addressed Asmaa, saying, "If you made a mistake, you already apologized. If Sheikh Shaarawy were alive, he would have invited you to his home and clarified things to you." He made these statements during a phone interview with TV presenter Amr Adib on his program "Al Hekaya" (The Story) on Friday, November 1.
Asmaa and her father collaboratively present an entertainment program on ON E Channel on which they interview celebrities.