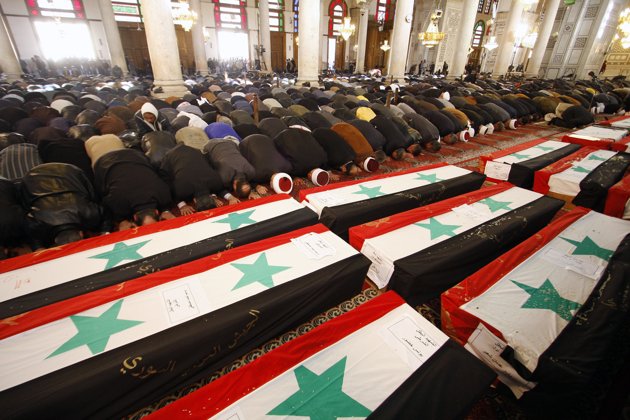 President Bashar al-Assad said on Monday that foreign parties were funding "armed terrorist groups" to destabilize Syria and intent on blocking any political solution, the state news agency SANA reported.
It said the embattled president made the accusation in a meeting with a visiting top Russian MP, Alexei Pushkov, head of the international affairs committee of Russia's lower house of parliament.
Assad thanked Russia for its support of his country which he said was being "targeted by armed terrorist groups receiving funding and arms from foreign parties, aiming to destabilize Syria," SANA reported.
The same parties were determined "to block all efforts to reach a solution, especially with the reforms being brought in," he added.
Russia is a close ally of Damascus, which is under mounting Arab and international pressure to end its crackdown on pro-democracy protests that activists say has killed more than 6,000 people since March 2011.
Moscow and Beijing earlier this month vetoed a UN Security Council resolution condemning the violence by Assad's regime, an action which earned Moscow a tirade of criticism from the West.
The visit by Pushkov, a member of the ruling United Russia party and former television commentator, comes after Russia's Foreign Minister Sergei Lavrov held talks in Damascus earlier this month with Assad.
Meanwhile, Syrian troops massed around Homs, sparking calls Monday for women and children to flee the besieged flashpoint city, as Iranian warships docked at the port of Tartus in a show of force.
The reported build-up came as Mediterranean states meeting in Rome agreed to preserve Syria's territorial integrity and avoid an "Iraqi scenario," according to Tunisian Foreign Minister Rafik Abdessalem.
US General Martin Dempsey, chairman of the Joint Chiefs of Staff, said any intervention in Syria would be "very difficult" and that it was "premature" to arm the opposition.
China's influential People's Daily warned that any Western support for the rebels would trigger a "large-scale civil war."
But, despite a weekend appeal by a visiting Chinese envoy for all sides to stop the violence, monitors said forces of embattled President Bashar al-Assad targeted the central city of Homs for a 17th straight day.
Attacks on Homs killed nine out of the 15 people killed across Syria so far on Monday, according to reports by the Syrian Observatory for Human Rights and official state media.
Shelling of Baba Amr, the main rebel stronghold in Homs, killed five civilians, while another four died when rockets crashed into Al-Malaab district, said the Britain-based Observatory.
The official SANA news agency said a lieutenant colonel and a sergeant were killed in a clash between border guards and an "armed terrorist group" in Athraya, central Hama province.
Activists and state media reported at least 14 people were killed Sunday, adding to the more than 6,000 people who have died in the Assad regime's 11-month crackdown on dissent.
"Infantry troops arrived yesterday (Sunday) in Homs," Rami Abdel Rahman, head of the Britain-based Syrian Observatory for Human Rights, told AFP on the telephone Monday.
A Homs-based activist voiced fears of an imminent attack on Baba Amr, the main rebel stronghold in the central city, speaking of "unprecedented military reinforcements coming from Damascus."
"News has been leaked to us from army officers about a bloody attack that will burn everything in Baba Amr," Hadi Abdullah of the General Commission of the Syrian Revolution said Sunday.
"We were expecting the attack two nights ago, but it could have been just delayed because of the snowstorm," he said.
A day after saying Baba Amr was being hit at the rate of up to five rockets a minute, Abdullah on Monday demanded a safe passage to allow women and children to leave the district.
"We want women and children to be allowed to leave," he told AFP, adding that "people were suffering from the weather while their conditions are miserable."
Abdel Rahman was cautious about the timing of the expected attack.
"We do not know when the attack might happen," he said.
Elsewhere, two warships from Iran, a key backer of the Syrian regime, docked at the port of Tartus, Tehran's state television reported on Monday, adding that their crew would train Syrian sailors.
Iran's navy chief, Admiral Habibollah Sayari, said on Saturday that the ships, a destroyer and supply vessel, had passed through the Suez Canal to show the Islamic republic's military "might."
In Damascus, regime forces remained on alert after two days of large and unexpected protests, and after a call for a "day of defiance" was observed in restive neighbourhoods, according to activists.
"Following the surprising demonstrations (on Friday and Saturday), the regime is reconsidering its security measures," in the capital, said Abdel Rahman.
Mohammed Shami, a spokesman for activists in Damascus province, said security was bolstered in some areas in the tense neighbourhood of Mazzeh, including around the Iranian embassy.
Two masked men flew a large green, white and black flag of "independence" from a bridge in Kfar Sousa neighbourhood, according to amateur video footage uploaded by activists to YouTube.
Activists reported Sunday a security clampdown on Mazzeh, thwarting plans to stage large protests in the area, scene the day before of a funeral that became a huge anti-regime rally.