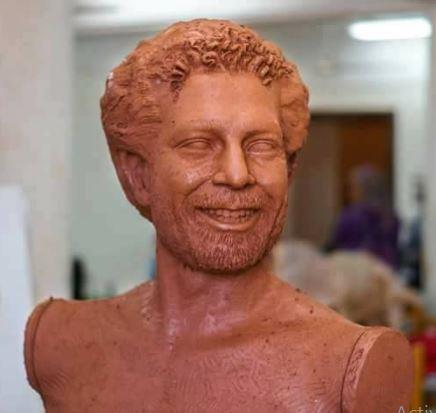 As a way to express his gratitude to the achievements of Egyptian football star Mohamed Salah, professor of Sculpture at the Faculty of Applied Arts of Assiut University Mohsen Selim created a clay sculpture of him.
Through a televised statement to privately-run TV channel Al-Nahar, Selim said on Tuesday that what Salah achieved for Egypt prompted him to make the statue. "I saw the joy of the Egyptians after his goal in the Congo, therefore I decided to design a statue of Salah carrying his smile, which reflects the joy of the Egyptians," he said.
Selim said that he worked on the clay piece for 100 hours and hoped that Salah can pay a visit to the Assuit University to receive the statue as a gift.
Besides his membership of Egypt's national team, Salah is currently servicing as winger at the UK-based football club Liverpool. He helped Egypt reach the 2018 World Cup tournaments after beating Congo in a dramatic clash in Alexandria.