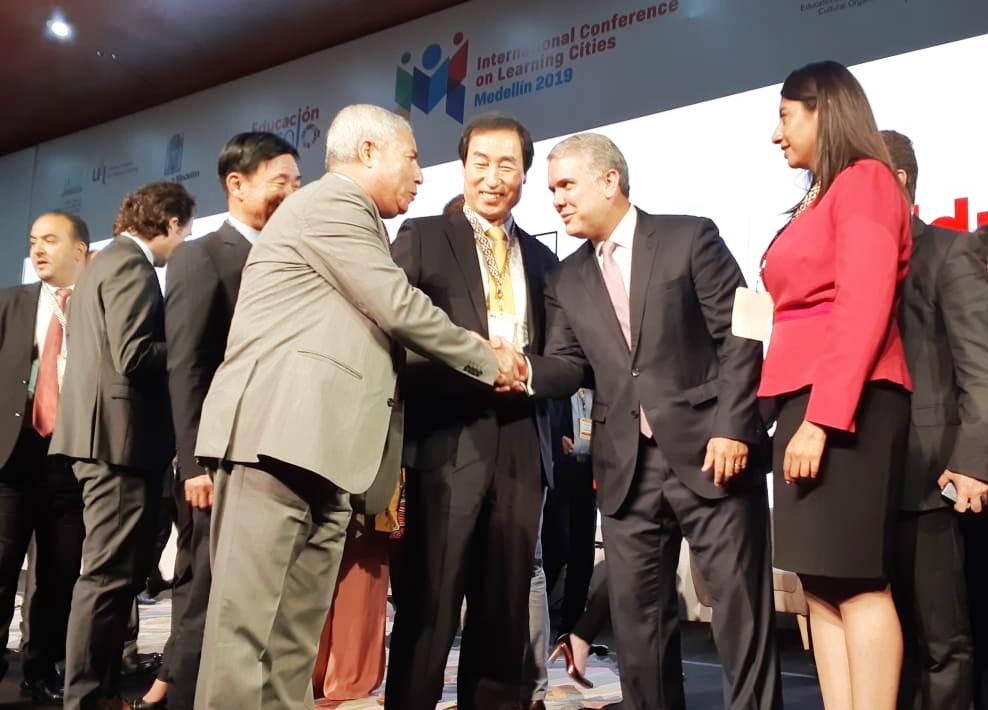 Aswan governor Ahmed Ibrahim received the UNESCO Learning City Award, as Aswan was one of ten cities worldwide to have won the award, having shown exemplary progress and commitment to promoting education and lifelong learning at the local level.
The awards were delivered during the ceremony of the annual conference of the UNESCO Global Network of Learning Cities (GNLC) at Medellín, Colombia, held between September 30 to October 3.
"The Egyptian city of Aswan has developed a strategy that integrates a variety of projects, including gardening and water-conservation programs in schools, as well as diverse entrepreneurial training opportunities for all groups of society," the award's website stated.
During the conference, Ibrahim delivered a speech in which he expressed his gratitude and appreciation towards the officials of the UNESCO Institute for Lifelong Learning for choosing Aswan City as a member of the GNLC.
He said that Aswan, as the capital of African youth, is always looking to receive visitors from all over the world to enjoy its warm sun and tourist attractions. Ibrahim added that the tourism, cultural, artistic, sports and science festivals held in Aswan encourage further learning and interaction with other cultures.
He added that at the end of this year, Aswan will host the Aswan Forum for Peace and Sustainable Development, a regional and continental platform where leaders of politics, thought and opinion alongside peacemakers and development partners will meet.
The UNESCO Learning City Award was established as part of the UNESCO Global Network of Learning Cities in 2015.
It is an international biennium award, which is neither a designation nor a prize, but a recognition of exemplary progress made by cities in promoting inclusive education and lifelong learning in local communities.
It also aims to publicly share good practice that can be used by cities around the world to develop sustainably through building learning cities.