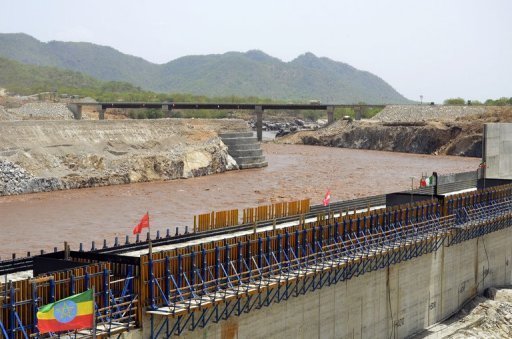 ADDIS ABABA – The African Union urged Egypt and Ethiopia to come together for talks to solve a bitter dispute over the sharing of Nile river waters amid Ethiopia's building of a new dam, the AU chief said Wednesday.
Egyptian President Mohammed Morsy said Monday that "all options are open" in response to Ethiopia's building of the Grand Renaissance Dam on the Blue Nile tributary.
"There should be discussions around these issues… aimed at having a win-win situation," AU Commission chief Nkosazana Dlamini-Zuma told reporters.
"Both countries need the water," she said.
Egypt says its "historic rights" to the Nile are guaranteed by two treaties from 1929 and 1959 which allow it 87 percent of the Nile's flow and give it veto power over upstream projects.
But a new deal was signed in 2010 by other Nile Basin countries, including Ethiopia, allowing them to work on river projects without Cairo's prior agreement.
Talks between the two countries should focus on finding on a solution "in a new context, not in the context of the colonial powers," Dlamini-Zuma said without elaborating.
Ethiopia last month began diverting the Blue Nile a short distance from its natural course for the construction of the dam, but has assured its neighbours downstream that water levels would not be affected.
A study by international experts on the dam's impact on the river has been submitted to Egypt and Sudan, which also relies on Nile resources and supports Ethiopia's hydro-electric project.
Egypt has dismissed the study's findings, which minimise the dam's impact, and has called for further assessments.
Ethiopia has pledged to press ahead with construction of the $4.2 billion (3.2 billion euro) dam, which will have a capacity of 6000 MW when complete.
The Egyptian foreign minister is expected to visit Ethiopia in the coming days, although no date has been confirmed.
The first phase of the Grand Renaissance dam is expected to be complete in 2016 and will generate 700 MW of electricity, making it Africa's largest hydroelectric dam.
Ethiopia plans to export electricity from the dam to neighbouring Sudan, Djibouti and Kenya and is funding the massive project on its own.
The Blue Nile joins the White Nile in the Sudanese capital Khartoum to form the Nile, which then flows through Egypt.