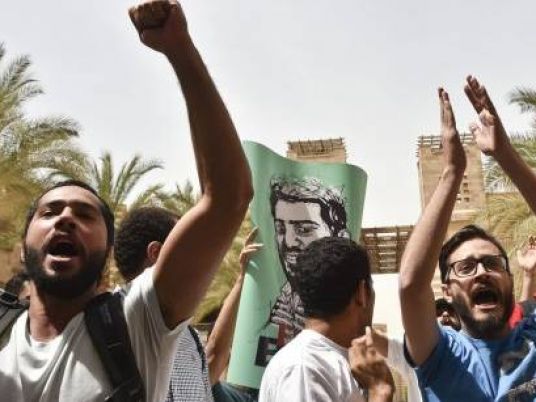 American University in Cairo (AUC) student Ibrahim Tamer was released on Monday days after a few hundred students demonstrated on campus calling for his release, according to the Free Bebo campaign established in his support.
Security forces arrested Tamer, popularly known among his friends as Bebo, from the airport on April 24 as he was on his way to a Spring Break trip to Greece.
Tamer was charged with "attempting to overthrow the regime, inciting violence, and disrupting the enforcement of the constitution and law." He was also accused of attempting to escape from the country with a "large amount of money," according to his sister Lojain.
The stand at AUC was organised on Wednesday "to assert that freedom of expression and freedom of speech are not crimes," Lojain had told Aswat Masriya.
Tamer's detention was part of a widespread campaign of arrests that Egyptian police forces undertook before protests on April 25, which were organised against Egypt's transfer of Tiran and Sanafir to Saudi Arabia.
Security forces dispersed limited protests that broke out across Egypt against the agreement on April 25. At least 270 protesters were arrested then, according to a security source.
Three UN Human rights experts condemned on Monday the Egyptian authorities' handling of protests, which they described as the "largest protests in Egypt in the past two years."
They urged the Egyptian government "to put an end to the disproportionate reactions against the exercise of the rights to assembly and expression in the country." They also criticised the storming of the press syndicate by security forces on May 1.
Security forces raided the syndicate's headquarters and arrested two journalists. What followed was a series of escalatory measures led by the syndicate, which demanded a presidential apology and the dismissal of the interior minister.
The ministry denied using violence or violating the law in its raid on the building, saying that an arrest warrant had been issued for the two journalists over accusations of "inciting protests".
"The worsening crackdown on peaceful protest and dissent in Egypt represents a further setback for an open political environment and a vibrant civil society," the UN Special Rapporteurs on freedom of expression, David Kaye; on freedom of peaceful assembly and association, Maina Kiai; and on human rights defenders, Michel Frost said.
The US-based watchdog Human Rights Watch says Egypt "remains in a human rights crisis" under President Abdel Fattah al-Sisi.