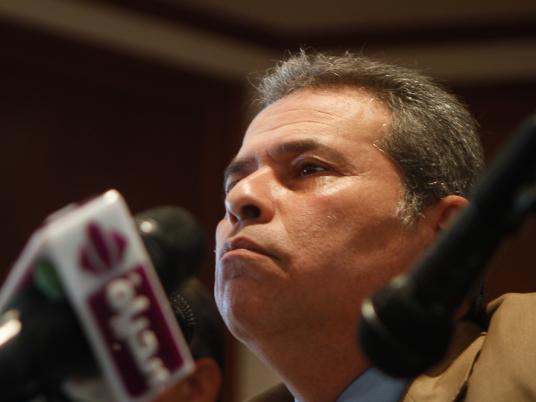 There is something tragic about the Haram area — jumbled hotels, gaudy souvenir shops, skinny horses, tourist touts so desperate they fling themselves at moving taxis like moths at a lamp, sunbaked tourists crouched on hotel stoops smoking cigarettes rather than wandering around and risking getting accosted. And the Pyramids, looking down their noses at it all.
It is fitting that Egyptian nationalist and luminary of the late-night TV anti-Muslim Brotherhood movement Tawfiq Okasha should choose to hold a press conference in a hotel here, overlooked by a wonder of the world. Okasha is obsessed with Egypt's history and its millennia-old civilization. He called the satellite channel he founded Al-Faraeen, a neologism that seems to be a variant on the correct plural form of pharaoh, fara'na.
Okasha's critics suggest that it is not only words he makes up, but that he uses his widely watched TV show, "Egypt Today," to broadcast lies and fantasy about his political opponents. In July, a court ordered that Al-Faraeen shut down for 45 days.
Okasha himself faces charges of incitement to kill and topple the state following statements he made about President Mohamed Morsy on air. The press conference he held was to respond to these charges.
When Okasha eventually appeared, he was immediately set upon by reporters — just like the tourist touts and the taxis outside. He plowed on, taking to the stage, where he lit a cigarette — the first of many — and smoked it languidly as next to him his forceful lawyer, Khaled Suleiman, railed against Al-Faraeen's closure.
And then it was Okasha's turn to speak, which he did for almost three hours. He had much to say, especially since the authorities "cut out his tongue," as Soleiman put it, when they closed Al-Faraeen and denied Okasha his nightly podium.
It was the usual Okasha performance — secular, nationalist, folksy populism and personal anecdotes combined in a slow-burn rant about the Brotherhood, which he described as al-taraf al-talet, the mysterious and malevolent third party of lore that is said to have been whipping up chaos in Egypt since the revolution.
He was interrupted at one point by a middle-aged woman holding a mini megaphone who screamed into it against the closure Al-Faraeen.
"Yes to this respectable man!" she shouted, as Okasha stared out from the podium and people clapped. Encouraged, the woman demanded the closure of certain Islamic channels (a viewer previously called into one channel and asked for a fatwa, or ruling, that killing Okasha is permissible) but was interrupted by Okasha, who overruled her on the grounds that such a step is against media freedoms. Slightly crestfallen, she returned to her seat.
Okasha's secretary, Jehan Talaat, said the 350 employees of Al-Faraeen have stuck by Okasha during his travails because of the strong sense of "belonging and love" they feel toward the channel. Thirty-two-year-old Hayat El Dardiry — an Al-Faraeen presenter and Okasha protegee who co-hosts "Egypt Today" — said that her boss "makes us feel like he's our father." Okasha attributed this sense of belonging to the fact that most of them are "farmers" from the same rural areas as him and that that they wanted to work in the media but had neither the opportunity nor the contacts necessary.
"So I gave them jobs," he said.
Okasha is an unlikely poster child for media freedom in Egypt. After graduating in 1991, he joined state TV's Channel 5 for two years until he was given his own show, "Parties and Parliament," on which he said he hosted political opponents of the Hosni Mubarak regime, including Morsy, and fell out of favor with regime lackey and former Information Minister Anas al-Fiqqi as a result.
"In 2005, the program was rescheduled from 11 pm to 2 am so that nobody would see it but it would still be shown. Fiqqi said it was biased when actually it was against the government," Okasha said.
When not standing up to the regime, Okasha was busy being part of it: In 2010, he was elected MP of a constituency in his native Daqahlia on a National Democratic Party ticket.
His media ambitions took a new twist in 2009 when he took unpaid leave from Channel 1 to found the Virginia Company, which would eventually establish Al-Faraeen.
The company was so-named because, Okasha explained, his francophone mother saw a French beauty queen named Virginia and "loved the name." She wanted either him or his sister to name their children Virginia, "but we both had boys and my mother objected to naming the horses we keep Virginia," Okasha said.
Al-Faraeen started out as an online newspaper before it hit television screens.
"We presented a new school of media. The simple Egyptian citizen found himself on screen," Okasha said.
While 45-year-old Okasha makes great play of his rural roots — "I am a falah [farmer]" is one of his favorite refrains — he describes himself as coming from a "peasant aristocratic" family whose wealth is in agriculture.
In 1952, the family lost much of their wealth under President Gamal Abdel Nasser sequestration policies but "got back on their feet."
Okasha's fascination with farmers began early when, at the age of 12, he defied his grandfather, the village mayor, and went beyond the gates of their rural estate to fraternize with villagers.
Later, he noticed that the language used in TV programs alienated Egypt's poorer and less-educated classes, and made rectifying this his life's mission.
He studied "environmental media" at Ain Shams University in Cairo, describing it as revolving around the question of "how media affects its surroundings and how those surroundings affect the media."
Having received two diplomas and a master's degree, Okasha said he obtained a PhD at a private university in the US. His thesis was on "the role of an effective leader in media institutions."
There has been much speculation about this PhD; it has been alleged that the university Okasha claims to have received it from doesn't exist. Okasha dismissed this, saying that it was a "little-known specialized university."
To prepare for Al-Faraeen, Okasha returned to his childhood hobby of hobnobbing with the lower classes.
"I sat in coffee shops, with farmers in their fields. I sat with workers and watched how they talk, the jokes they made, how they acted when they want to talk about someone without mentioning their names, their body language. I practiced mimicking them at home," Okasha said.
Okasha's Al-Faraeen appearances are the stuff of legend and have transformed him into a cult figure. There is something a bit unreal about his TV persona — the animated delivery, the meandering and sometimes bizarre anecdotes, the sudden explosions of rage. A catalog of popular "Okasha-isms" now exists, such as his warnings about Masonic plots on "13/13/13" and his challenge to Mohamed ElBaradei to prove his qualifications for the presidency by describing how ducks are force-fed in the Egyptian countryside.
An Okasha lexicon has emerged from his ruminations on Masonic-Israeli plots, his archenemy the Brotherhood and his hero, former President Anwar Sadat. He has inspired a popular Twitter account, @tawfikokasha_en, which parses Okasha in Arabic and captures his spirit in absurd English tweets about masons, spies and "honors Egyptians."
In fact, very little separates Okasha the TV persona and Okasha the man. He speaks exactly as if he is addressing his Al-Faraeen aficionados live on air. When being asked a question, he freezes, cigarette in mouth, until his brain processes the information, his eyes darting around like a jackpot on a fruit machine. Asked about one of his bete noires, he will launch into an impassioned invective about them.
Okasha has a theory concering the role of "crisis media," a theory that, as one might expect, involves the Brotherhood. Broadly defined, Okasha believes that at times of crisis — such as earthquakes, famines, war or the ascent of dangerous forces to power — the media must assume a battle footing in order to defend the nation.
"Egypt had a revolution, and at one point the revolution turned into a crisis when the Muslim Brotherhood stole the revolution. All of the media should have conformed to the standards of crisis media to prevent the danger that will come to Egypt if the Muslim Brotherhood takes power," Okasha said.
During the press conference, a journalist wondered whether Okasha himself will change anything now that Egypt is living in the era of the Brotherhood.
"I am the last one in the Arab nation who could grow his beard. How can I be a moderate president with a beard?" Okasha replied, a perfect Okasha-ism.
While his critics dismiss him as a buffoon and enemy of the revolution, Okasha has proved himself to be an astute broadcaster with mass appeal.
Okasha claims that "Egypt Today" was watched by more than 300 million viewers throughout the Arab world, a figure impossible to verify. What is not in doubt, however, is that since 25 January last year, his channel has been able to articulate the fears of ordinary people who are not necessarily against the revolution politically, but who have been left reeling by the uncertainty it produced, or fears about the intentions of the ruling Brotherhood — albeit that the Al-Faraeen formula is a high-octane, shrill incarnation of these concerns.
The decision to close the channel has only served to boost his celebrity and inspire the solidarity of individuals and groups who had previously dismissed him as a demagogue.
Okasha said he and his family are paying dearly for his quest to expose the Brotherhood plot against Egypt. In addition to the death threats — he thinks Muslim Brotherhood sympathizers want to assassinate him — his eldest son was suspended from school for a week after a classmate teased him with "Quack, quack, quack, your father belongs to the duck," and the son responded by throwing a desk at him.
Despite all this, Okasha said he has "not lost faith" in the Egyptian people and never once considered fleeing Egypt.
"You asked me before about my horses. Nobody loves horses unless they're a horseman. I ride horses and I do a difficult type of riding called al-foroseya al-sha'beya," he said, referring to a type of dressage. "You can't be scared while doing this. The horse dances and runs fast. A horseman never leaves the ring, unless he is a phony."
---
Okasha on …
Egypt Indepedent gave Okasha 30 seconds to speak his mind in response to several prompts.
Masonism
"An old international order followed by horsemen of the temple to protect Jewish heritage and religion."
Sadat
"Egypt greatest leader during the last 150 years and since Mohamed Ali. I say to Sadat, 'Your mistakes were very few, but you were unable to teach the Egyptian people how leaders should be.' It is for this reason that for a while after his assassination Sadat wasn't loved, but eventually the people loved him intensely."
ElBaradei
"On the personal level, I respect his knowledge, his distinction, the fact that he held the highest positions internationally and his Nobel Prize. I respect this because it is a source of pride for all Egypt. But on the political level I have differences with him because no politician can rule Egypt unless they are a product of Egyptian society with the same ideas of that society rather than imported ideas."
Omar Suleiman
"The greatest intelligence chief since Ahmed Ismail Ali. I say to him, 'You died unjustly.'"
Mohamed Morsy
"I say to him, 'Doctor, I'm angry with you because we were friends but you forgot this friendship. We were friends even though we had different opinions. I can only say to him one thing: 'I'm dealing with the current situation.'"
Mohamed Badie
"Democracy isn't a pair of wooden clogs (2ob2ab) used in the bathroom. Democracy is the people ruling the people."
Hussein Tantawi
"You are a respectable man and I love you dearly. We can never forget that you were one of the great men who fought in the 1973 war. But, alas, several months before the presidential elections I told you that you have a choice between being a successor to Ahmed Ismail Ali, leader of the Egyptian army in the 1973 October War or a successor to Abdel Hakim Amer, leader of the Egyptian army during the 1967 defeat. Unfortunately, you chose the latter."
Hosni Mubarak
"Alas, during the last 10 years of your rule, you left Egypt to your son who was previously treated for 15 days in a psychiatric hospital in London and to your wife, who was cured of leukemia but was left mentally unstable by it, and to Safwat al-Sherif, Zakariya Azmy, Ali Eddin Helal and Mohamed Gamal. And the result is you're in prison now."