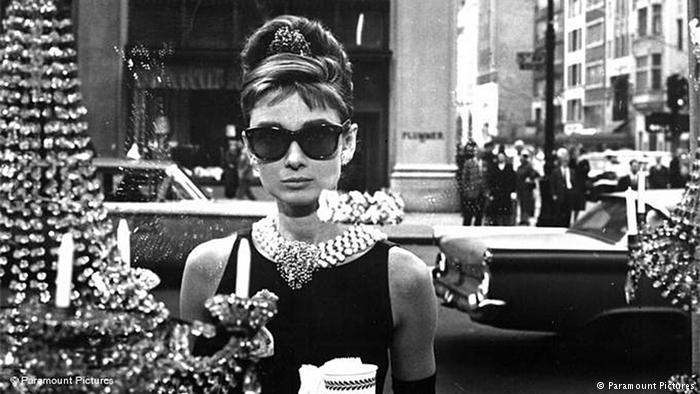 Shoes, dresses, jewelry, but also a cigarette lighter that once belonged to Hollywood star and fashion icon Audrey Hepburn can be purchased online at Christie's starting today.
Audrey Hepburn in "My Fair Lady" (1963)
An auction of items from Audrey Hepburn's personal collection starts on Tuesday. The lot includes a satin cocktail dress by Hepburn's main couturier, Hubert de Givenchy, a Burberry trench coat, a pair of leather ballet pumps, a swizzle stick from Cartier and an archive of photographs.
Further highlights of the auction are the film scripts to some of her most popular works, including "Breakfast at Tiffany's," annotated by the Hollywood legend herself.
Celebrity names have been making auction houses owners very happy lately. Earlier this September, a private collection of paintings owned by Vogue fashion photographer Mario Testino went to auction, raising almost 6.3 million pounds (7.1 million euros, $8.5 million) in total.
In July, a collection of Madonna's private items, such as the corset she wore on the cover of her "Like a Virgin" album (1984), raised almost $70,000 at auction.
The items had however not been put to auction by the star herself, but by a former friend. Madonna objected to the sale of a series of very intimate items, from breakup letters to a hairbrush with some of her hair.
Other weird celebrity items have made headlines in the past.
In 2008, Scarlett Johansson sold a tissue into which she had sneezed during "The Tonight Show with Jay Leno." Auctioned off on eBay at 99 cents, it fetched $5,300. The money went to charity.
In 2006, the black gown worn by Audrey Hepburn as Holly Golightly in "Breakfast at Tiffany's" fetched 456,200 pounds. The personal items of the Hollywood legend are now being sent to auction by her family.
"We are thrilled to have been entrusted with the sale of items from Audrey Hepburn's personal collection," said Adrian Hume-Sayer, director of private collections at Christie's.
"Her name is one that instantly resonates, and her appeal and relevance remain as strong today as they ever were. The sales will offer fans and collectors alike the opportunity to acquire unique personal objects which have never before been seen on the market, and which will undoubtedly offer new insights into the remarkable life of a remarkable woman," he added.
Christie's online auction ends on October 4, and a live auction takes place on September 27 at Christie's in London.
Audrey Kathleen Hepburn was born in Brussels in 1929. She studied ballet in London but gained fame in Hollywood, starring in movies such as "Roman Holiday"(1953) with Gregory Peck, "Breakfast at Tiffany's" (1961) or "My Fair Lady" (1964).
After de facto retiring from the movie world in the late 60s, she dedicated herself to humanitarian efforts and devoted much of her time to UNICEF, for which she became a Goodwill Ambassador. She was awarded the US Presidential Medal of Freedom in December 1992 for this role, just a few months before her death the following year.