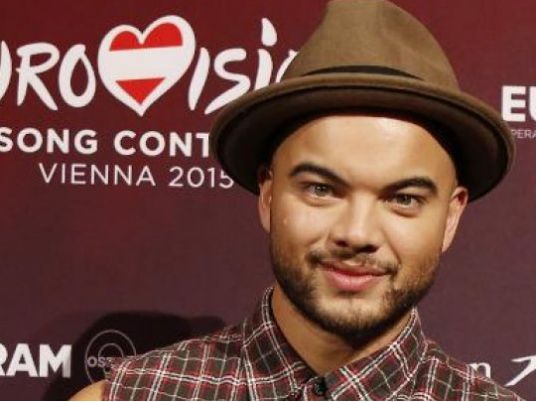 The world's most famous kitsch pop competition — the Eurovision Song Contest — will be held in Vienna on Saturday and for the first time include wildcard Australia.
Of the 40 nations competing in the Eurovision's 60th edition under the motto "Building Bridges", only 27 will make it into the grand final at the glittering Stadthalle arena on Saturday night.
Australia's Guy Sebastian is among those tipped to win the outlandish annual extravaganza, which attracts some 200 million viewers, along with perennial favourites Sweden as well as Italy and Russia.
Among the acts eliminated in Tuesday's first semi-final was highly anticipated Finnish punk band PKN, four middle-aged rockers with Down's syndrome and autism, who performed Eurovision's shortest-ever song at just 84 seconds.
Russia, Serbia and Estonia, on the other hand, are amid the 10 countries that made it through.
Generally the nation that wins the competition gets to host it the following year. Austria currently holds this honour as home of the 2014 victor, bearded drag queen sensation Conchita Wurst.
However, this will not be the case if former "Australian Idol" winner Sebastian comes first, with organisers saying the 2016 show will nevertheless be held in Europe.
The competition is, after all, a European affair.
Countries don't need to be in the geographical confines of the continent, but they do have to be members of the European Broadcasting Union (EBU), an alliance of national broadcasters from Europe and the Mediterranean region.
Since its launch in 1955, Eurovision has become the ultimate pop platform, catapulting Swedish icons ABBA to worldwide fame, as well as boosting the likes of Celine Dion, Cliff Richard and Olivia Newton-John.
But it is mostly meant as a bit of fun, with many of the songs offering an avenue for the camp, the over-the-top and the downright silly, as evidenced by song titles such as "Diggi-Loo Diggi-Ley", "Boom-Bang-A-Bang" and "Lalala".
Memorable contestants down the years have included Irish puppet Dustin the Turkey in 2008, transgender Israeli diva Dana International in 1998, German pop band Dschinghis Khan in 1979 and six Russian grannies in 2012.
Under the current rules, songs may be performed in any language but must not exceed three minutes.
The eventual winner will be chosen by a 50-50 ballot split between viewers at home and professional juries. Neither group is allowed to vote for their own country.
The EBUs' five biggest financial backers — Germany, France, Spain, Italy and Britain — automatically qualify for the final along with the previous year's winner, in this case Austria.
Australia, as honorary guest, was also able to skip the semi-finals, the second of which will be held on Thursday.
Mans the man
Bookies' favourites include Swedish singer Mans Zelmerlow — who tried to enter twice before — and Italy's pop opera powerhouse Il Volo, three young men who performed with Barbra Streisand amongst others.
Meanwhile, Portugal and San Marino languish at the bottom of the table, with odds of 969 to one.
Austria has high hopes that its pop rock outfit Makemakers, ranked around 26th by betting agencies, will match Wurst's grandiose victory in Copenhagen last year with her anthem "Rise Like a Phoenix".
Wurst, who has become an active campaigner for gay rights, returns to the Eurovision on Saturday, interviewing artists after they perform and singing a number off her new album.
There is of course no scientific formula to winning the competition, but research shows that being female helps: of the 59 past winners, 35 were women.
The total cost of the contest is currently estimated at 36.7 million euros ($41.7 million), considerably less than the whopping 60 million euros forked out by Azerbaijan in 2012.
"We will organise the whole event with a pinch of humour," said Eurovision executive producer Edgar Boehm.
"We don't want to take ourselves too seriously, but present ourselves as a friendly country. I hope there will be a lot of laughter."