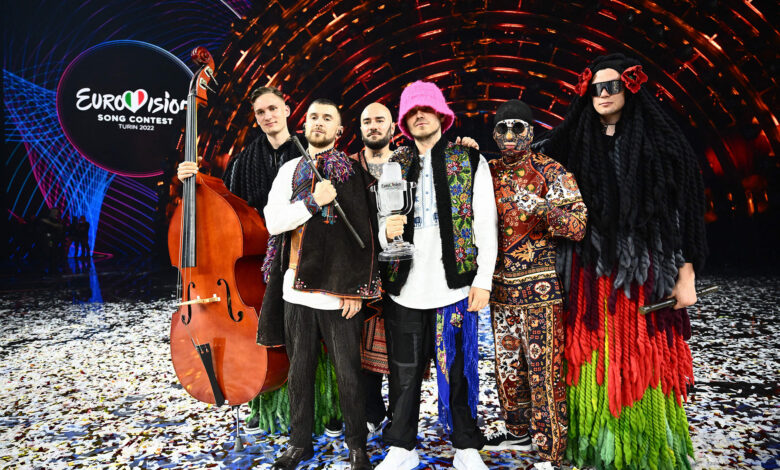 This year's Eurovision Song Contest winner Ukraine will not host the competition in 2023 and will instead be offered to the United Kingdom, the competition's organizers the European Broadcast Union (EBU) said in a statement on Friday.
It is tradition for the previous year's winner to host the next event, but the EBU said a safety and security assessment has determined it will not be feasible for Ukraine due to the ongoing war in the country.
"The Eurovision Song Contest is one of the most complex TV productions in the world with thousands working on, and attending, the event and 12 months of preparation time needed," it said.
The contest's governing board, the Reference Group, has concluded that current circumstances mean "the security and operational guarantees required for a broadcaster to host, organize and produce the Eurovision Song Contest under the ESC Rules cannot be fulfilled by UA:PBC [Ukraine's public broadcaster]," the statement said.
Ukraine's folk-rap group Kalush Orchestra won this year's Eurovision in May, surfing a wave of goodwill from European nations to clinch the country's third win at the event. The band's song "Stefania" — written about the frontman's mother — beat competition from main rivals the UK and Spain at the competition in the Italian city of Turin.
The event marked the first major cultural event in which Ukrainians had taken part in since Russia invaded in February, and many in the audience waved Ukraine's blue and yellow national flag during the evening.
The statement thanked UA:PBC for their "wholehearted cooperation and commitment" following Kalush Orchestra's win, and expressed the EBU's "sadness and disappointment that next year's Contest cannot be held in Ukraine."
The EBU said it will now begin discussions with the BBC to potentially host the 2023 contest in the UK, as this year's runner up.
"It is our full intention that Ukraine's win will be reflected in next year's shows. This will be a priority for us in our discussions with the eventual hosts," the statement concluded.